John Burdon Sanderson Haldane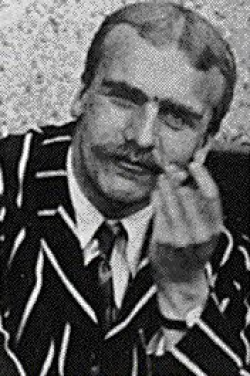 Born

5 November 1892

Died

1 December 1964 (age 72)
John Burdon Sanderson Haldane was known to friends as Jack and used the moniker JBS in publishing. He was a leading scientist in the 1900s whose mathematical work on genetics and evolutionary biology was critical to acceptance of natural selection.
---
Haldane was born in Oxford and attended New College. His working life started at Oxford, before moving on to Cambridge, followed by a professorship at University College London where he spent most of his career. Amongst many other awards during his lifetime he received the Darwin Medal from the Royal Society in 1952 and the Darwin-Wallace Medal in 1958 from the Linnean Society of London.
If you want to excel in science, try to develop the habit of quantitative thinking. It is your duty to begin thinking statistically about anything that can help your country and the world.
Haldane worked on genetics, evolution and enzymes. His derivation of the Michaelis-Menten equation with G E Briggs is the version used by most current models today.
Haldane was politically active, a Marxist and open supporter of the Communist Party. For political and personal reasons he left London in 1956 and moved to Calcutta to join in Indian Statistical Institute. Here he took an interest in observation, specifically botany and genetics.
Haldane used his mathematical ability to open up new fields of research across various sciences and encouraged young scientists to do the same.
Haldane died in 1964 and requested that his body be used for study at the Rangaraya Medical College, Kakinada.
My body has been used for both purposes during my lifetime and after my death, whether I continue to exist or not, I shall have no further use for it, and desire that it shall be used by others. Its refrigeration, if this is possible, should be a first charge on my estate.
This page was written by a Biology: Changing the World volunteer.