Sir Robert Edwards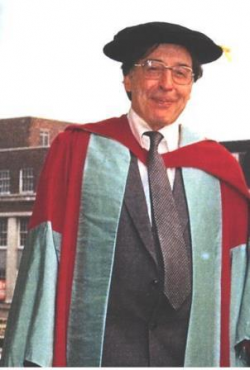 Sir Robert Edwards, image courtesy of Bourn Hall Clinic
Born

27 September 1925

Died

10 April 2013 (age 87)
Sir Robert Edwards worked in partnership with Patrick Steptoe to develop in vitro fertilisation (IVF) at a time when infertility was not seen as a priority issue. This work has resulted in the birth of millions of babies worldwide.
---
Edwards was born into a poor family in Manchester. He won a scholarship to the Manchester Central Boy's High School. His summers were spent in the Yorkshire Dales to be closer to where his father was working, and spent his time there working on a farm where he developed a great interest for natural history, observing the reproductive patterns of the livestock.
He applied to read agricultural sciences at the University College of North Wales in Bangor. However, he did not enjoy this as much as he had expected and transferred to study zoology instead. After graduating, he spent the summer in labouring jobs so that he could afford to go to Edinburgh to do a PhD; studying the developmental biology of the mouse. It was here that he realised the importance of interdisciplinary work, covering embryology, reproduction and genetics. This was an advanced view at the time.
After his PhD, Edwards spent a year as a research fellow at the California Institute of Technology. On his return to the UK, he joined the National Institute for Medical Research in London. He started to study human fertilisation around 1960 and moved to Cambridge in 1963.
In 1968, he managed to fertilise a human egg in the laboratory and began his collaboration with Patrick Steptoe, an Oldham based gynaecologist who had perfected a way of harvesting human eggs using laparoscopy. By combining these skills, they were able to produce mature eggs at the most favourable time, to increase the chances of fertilisation and development. Their work was also highly contributed to by Purdy and the organisational efforts of Harris.
Edwards and Steptoe agreed to work as equals, and said that they would stop their work if dangers to the patients or children emerged. Their work received a lot of criticism at the time, with concerns raised over the ethical and moral issues involved, and some of their funding was withdrawn. Edwards spent seven years travelling between Cambridge and Oldham in order to continue the research. He communicated with the media in order to engage and educate society about the work that was being undertaken.
I have always regarded Robert Edwards as like a grandfather to me.
They began transferring fertilised eggs to the womb in 1971, but it took more than 80 embryo transfers before achieving their first pregnancy. Unfortunately this was ectopic. Louise Brown was the second pregnancy and she became the first successful 'test-tube baby', born in 1978. They founded the Bourn Hall Clinic in Cambridge as a place to carry out their work and train new specialists.
Edwards was awarded the Nobel Prize in Physiology or Medicine in 2010 for the breakthroughs in IVF. Unfortunately, Steptoe passed away in 1988 and as the Nobel Prize is not given posthumously his name wasn't included in the award.