Patrick Steptoe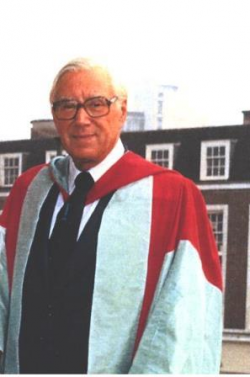 Patrick Steptoe. Image courtesy of Bourn Hall Clinic
Born

9 June 1913

Died

21 March 1988 (age 74)
Patrick Steptoe was an obstetrician, gynaecologist and a pioneer of fertility treatment who worked in partnership with Sir Robert Edwards to develop in vitro fertilisation (IVF) at a time when infertility was not seen as a priority issue. This work has resulted in the birth of millions of babies worldwide.
---
Steptoe studied medicine at the University of London's St George's Hospital Medical School and qualified in 1939. At the outbreak of the war, he volunteered as a naval surgeon. He was captured by Italian forces in 1941 when the boat he was in sank. Initially in prison, he had special privileges as he was a doctor, but these were revoked when his captors discovered he was helping fellow prisoners to escape. He left the camp in a prisoner exchange in 1943.
After the war, he completed his studies in obstetrics and gynaecology and established a successful practice in Manchester. In 1951 he began work at the Oldham General and District Hospital, where he studied sterilisation and infertility. He perfected the use of a laparascope, a narrow tube with an in-built optical fibre light, that was inserted into a  small incision in order to retrieve eggs from a woman's ovary. At the time this procedure was questioned by some of his medical colleagues.
In 1969 Steptoe became Director of the Centre for Human Reproduction in Oldham. He used the technique of laparoscopy, on which he had previously published a book, to harvest the eggs of volunteers, infertile women who saw the clinic as their last chance to become pregnant.
Steptoe started working with Robert Edwards in the 1960s. Edwards had developed a technique for fertilising eggs in the laboratory. By retrieving eggs at the right time and fertilising them in the laboratory the men thought they could implant them in the uterus and a pregnancy would result.
The two men agreed to work as equals, and said that they would stop their work if dangers emerged to the patients or children. Their work received a lot of criticism at the time, with concerns raised over the ethical and moral issues involved, and some of their funding was withdrawn. Their work was also highly contributed to by Purdy and the organisational efforts of Harris.
Steptoe and his team began transferring fertilised eggs to the womb in 1971, but it took more than 80 embryo transfers before they achieved their first pregnancy. Steptoe was the gynaecologist of Lesley Brown, a woman who had been unable to conceive. He performed the laparoscopy that harvested her eggs and this led to the birth of the world's first test tube baby, Louise Brown, in 1978.
The partnership of gynaecologist Patrick Steptoe and reproductive biologist Robert (Bob) Edwards achieved one of the greatest scientific breakthroughs of all time
Steptoe and Edwards founded the Bourn Hall Clinic in Cambridge as a place to carry out their work and train new specialists.
Steptoe was given a CBE and made a Fellow of the Royal Society in 1987. He was a founding member of the British Fertility Society and its first chairman. Edwards was awarded the Nobel Prize in Physiology or Medicine in 2010 for the work, but Steptoe was not eligible for consideration as he had passed away in 1988 and the award is not given posthumously.