Next issue / Subscriptions and Advertising
In the next issue we'll be talking to more scientists at the heart of cutting-edge COVID-19 research, from vaccine development to wastewater epidemiology.
The Biologist now offers digital subscriptions for individuals & institutions.
Members of the Royal Society of Biology receive a free print subscription to The Biologist and access to our digital, searchable archive of back issues, plus a whole range of membership benefits. Read about the Society's various membership options and offers or contact the membership team for more details.
For non-members, print subscriptions are £135 a year. However, schools or colleges can join and receive The Biologist and the Journal of Biological Education for £60 a year (£110 overseas) and we also now offer virtual subscriptions via Exact Editions.
Download a sample issue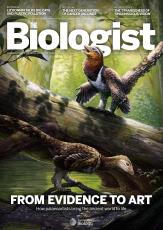 Advertising
The Biologist is an award-winning professional magazine that reaches the 18,000 members of the Royal Society of Biology, 90+ science organisations and societies, and over 1,000 schools and colleges. To discuss the range of advertising opportunities available with The Biologist or the Royal Society of Biology, contact tom.ireland@rsb.org.uk
Editorial
If you would like to write for us or have any ideas or feedback on The Biologist magazine, please contact tom.ireland@rsb.org.uk