Plenty of Room for Biology at the Bottom: An introduction to bionanotechnology (2nd ed)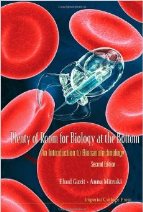 Ehud Gazit and Anna Mitraki
Imperial College Press
Plenty of Room is an introductory text to the fascinating field of bionanotechnology, showcasing the interface between nanotechnology and biology. This compelling book not only offers a wonderful overview of this exciting area of science, but delves into a number of specific biological and medical applications.
The book deals with a complex topic, but presents the material in an engaging and compelling style that offers something to both the general reader and subject expert.
Plenty of Room is superbly underpinned by subject specific, peer reviewed material and enhanced by some beautiful illustrations. It's a delightful and detailed overview of an emerging area of science.
Dr Ian Turner MSB
Shortlisted in the Postgraduate Textbook category of the Society of Biology Book Awards 2014