Anthony Trafford James: A Biography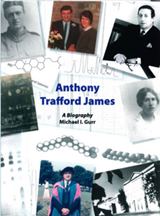 Michael I Gurr
Self-published (enquiries to mike.i.gurr8@gmail.com), £18
Author Michael Gurr worked with Dr Anthony (Tony) James at Unilever Research Laboratory, Colworth House, and describes this period as one of the happiest and most productive of his career. Following James's death in late 2006, it transpired that an obituary was needed to do justice to the great scientist's work and life, and that this should be in the form of a book. In order to make it appeal to a wider audience, and in tribute to James, the book is a biography.
James was born in Cardiff in 1922 to a hard-working but not wealthy family. It made him determined to work hard, do his best in life and make a good living for himself and his family.
This book will help those with a scientific background in the early stages of their careers to understand the commitment, hard work and occasional good fortune that help create a successful career in science.
The book touches on analytical techniques, places, people, research areas and biochemistry that will be familiar to most biologists, biochemists and chemists. It describes the development of the gas liquid chromatography technique, James's greatest achievement, and explains the science and its theoretical basis in an appendix at the back of the book.
Dr Amanda Hardy AMRSB