African Queens and their Kin: A Darwinian Odyssey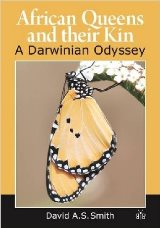 David A S Smith
Brambleby Books, £90.00
African Queens and their Kin is a remarkable biography of the life of the African queen butterfly and some of its close relatives. Although one of the world's most common butterflies, mainly found in Africa and Asia, there has been no detailed study of Danaus chrysippus published until now.
David Smith uses his 47 years of researching this species to describe its extraordinary story, including details of its life history, behaviour, evolution and migratory habits.
The book is full of tables, graphs, facts and figures. A section of the book includes photographs that usefully illustrate the text and bring the details provided to life.
Smith covers conflicts between humans and the African queen's habitat – for example, the impact of deforestation. These issues, in turn, link to other species and other studies.
The book would be of interest to the many amateurs fascinated by butterflies, as well as dedicated lepidopterists. Because of the detailed material, it may well also appeal to a wide range of other academics, including geneticists, ecologists, entomologists and animal behaviourists, as well as anyone interested in African and Asian invertebrates.
This is a beautiful and unique book as well as a fantastic resource. For non-academics, it might be of greater use if it were available to view in smaller, more manageable sections.
Grace Upperdine