Steppes: The Plants and Ecology of the World's Semi-arid Regions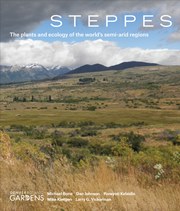 Michael Bone, Dan Johnson, Panayoti Kelaidis, Mike Kintgen and Larry G Vickerman
Timber Press, £35.00
The results of the latest simulations suggest that the semi-arid regions of the world are among the most vulnerable to the effects of climate change over the course of the current century. This latest threat to these biologically unique ecosystems comes on top of centuries of human exploitation, habitat degradation and defaunation – from the extinction of the Pleistocene megafauna to the decimation of the vast bison herds that once roamed the Great Plains of North America.
Perhaps surprisingly given their global distribution and cultural importance, the steppes (semi-arid biomes dominated by forbs, grasses and grass-like species, and characterised by climate extremes) of the world have been poorly studied.
This beautifully illustrated book attempts to fill this gap, providing an important baseline of information on the flora of the five biggest steppe regions: central Asia, central and Intermountain North America, Patagonia and South Africa.
With a clear structure and a focus on the constituent regions and major plant families in each steppe, the book provides a concise botanical tour of these superficially similar environments. It will be of immense interest and importance to anyone working in these biomes, or even keen horticulturists with an eye for the exotic.
Dr Ana C M Malhado