Companion to Wildlife Gardening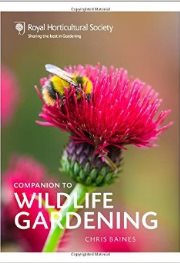 Chris Baines
Frances Lincoln
£25.00
This is a call to action to harness people power; to save wildlife near you and to encourage wildlife to come back into your garden.
Chris Baines explains why it is important for every one of us to do our bit to help wild plants and animals coexist with us in our towns and cities. Broken up into chapters, each covering a simple improvement you can make to your garden, the book is suitably illustrated with examples of the wildlife you might encourage to visit or live in your garden.
Not only can you make space for once common – in some cases now endangered – wildlife, but you can also improve your own quality of life by becoming more aware of the natural world around you.
Baines writes that by following the seasons, you can become more immersed in and aware of the changes that occur in your own garden, and begin to witness the sometimes dramatic events that unfold among the wildlife in parks and gardens.
From the macro to the microscale, he encourages you to sit quietly in the garden observing the surrounding fauna and flora.
Those with a small garden, or no garden at all, are encouraged to do what they can to participate, as even window boxes can encourage insect life.
Dr Amanda Hardy MRSB