100 Plants to Feed the Bees: Provide a healthy habitat to help pollinators thrive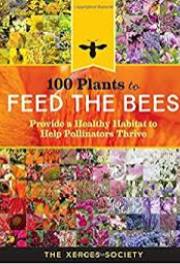 The Xerces Society
Storey Publishing, £12.99
Bees are beautiful, bountiful and beneficial. The decline of many bee species has been a feature of much scientific literature and concern in the media, owing to their vital importance for pollinating the world's food crops. This publication by the Xerces Society, a non-profit organisation concerned with the conservation of insects and other invertebrates, is thus timely.
The 240-page book is written primarily for the North American market, but it is of relevance worldwide. The opening section is a reminder that the threat to bees from pesticides was recognised in the 1930s by Dr Edith Patch and further highlighted by the work of Frank Pellett and Dr Eva Crane. This is followed by an explanatory section on plants and pollinators, including information on ecology, nutritional value for humans and other insects, and their role in landscape characteristics, plus recommendations for the establishment of pollinator plant habitats based on native species.
The bulk of the book comprises entries on 100 individual pollinator plants in North America. These entries are divided into five categories, namely native wildflowers, native trees and shrubs, introduced trees and shrubs, introduced herbs and ornamentals, and native and non-native bee pasture plants.
Each entry comprises two pages containing several photographs and a distribution map, all in colour. The text is a brief description of habitat requirements, recommended species or varieties and their characteristics. There are also comments on the prevalent insect visitors and on habitat preference and its ornamental value.
Beautifully illustrated, this is a practical manual as well as an informative and delightful text.
A M Mannion