The Coral Kingdom
Laura Knowles and Jennie Webber
Words & Pictures, £12.99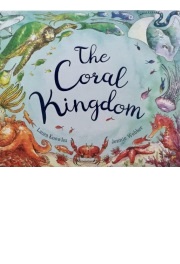 This beautifully illustrated book aims to alert young nature lovers to the importance of coral reefs and the threats they currently face.
On each double-page spread, a single line of Laura Knowles' poem weaves across one of Jennie Webber's illustrations of marine life.
The central rhyme tells readers how a reef forms ("Together polyps form a home, layer by layer, hard as bone") and how the structure supports wider marine ecosystems ("As turtles cruise among the weed, upon their backs the cleaners feed"), before looking at the effect of climate change on coral health ("The warming seas don't suit the reef. They'll bleach if there is no relief").
The poem's crescendo is a child-friendly call-to-arms to protect the environment in order to save the "coral kingdom" below the waves, accompanied by a three-page fold-out illustration of a reef in all its glory. The final pages include a summary of the science of coral bleaching for older readers and nine practical ways to help.
Tom Ireland MRSB