International Biolaw And Shared Ethical Principles: The Universal Declaration On Bioethics And Human Rights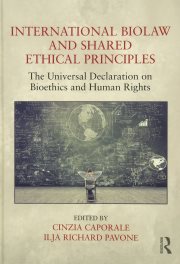 Cinzia Caporale and Ilja Richard
 Pavone (Eds)

Routledge Taylor & Francis, £99.75 (also available as an e-book/PDF)
The Universal Declaration
on Bioethics and Human Rights (UDBHR) was adopted by 191 countries in 2005 to provide a framework of principles and procedures for states to formulate legislation and policies in the field of bioethics. It formed a third pillar, along with the Universal Declaration on the Human Genome and Human Rights of 1997, and the International Declaration on Human Genetic Data of 2003, to establish bioethics within internationally agreed soft law. The UDBHR went further than previous legislation, broadening bioethics beyond biomedical-related ethics to include recognition of the environment and biodiversity as being integral.
This volume is a collection of essays that reflect on the significance of UNESCO's role in further widening human rights, and the efficacy and strength of non-binding soft law, and illuminate ethical concepts such as dignity, informed consent and relevant environmental issues such as overpopulation, poverty and pollution.
Ilja Pavone recognises some issues such as the legal status of human embryos or gene therapy that were not specifically addressed within the UDBHR and the limited new bioethical principles that were introduced at that stage. However, the unanimous acceptance of the declaration without any objections was a significant achievement and gives the UDBHR more weight than similar recommendations of international NGOs.
In one essay, Thomas Faunce argues the role of bioethics to assist in the transition from the 'corporatocene', where multinational corporations could challenge nation states' legislation (as tobacco giants have done in Australia, for example) to the 'sustainocene', where global pathologies such as climate change, food supply imbalances or environmental degradation will be effectively addressed.
Encouragingly, he identifies artificial photosynthesis as being an ethical and potentially viable solution to many of these ills, and proceeds to justify the case for the next UNESCO soft law to be a Universal Declaration on Photosynthesis and Human Rights. (Surely that would bring a ray of sunshine to the global outlook.)
Collectively, this volume provides
a good background to the history of the development of the UDBHR. The momentous task of uniting nearly 200 nations into a formative agreement on standards must not be underestimated. Hopefully, future researchers will adhere to these principles and standards as the routine minimum, and therefore this is a useful text for many undergraduate and graduate students.
For biologists working within the field of bioethics, it will also be a welcome addition to their library, as it welds together several themes into one whole.
Alexander Waller CBiol MRSB