Species Conservation: Lessons from Islands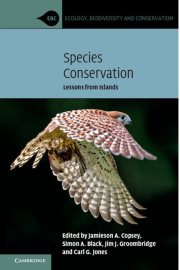 Jamieson A Copsey, Simon A Black,
Jim J Groombridge and Carl G Jones (Eds)
Cambridge University Press, £32.99
The need to conserve a growing number of species and maintain ecosystems on islands around the world cannot be overstated. The immense diversity of living organisms on islands has led to them being described as 'species engines'.
Comprising about 3% of the Earth's surface, islands support a disproportionate amount of its biodiversity, and yet around three-quarters of vertebrate and two-thirds of plant extinctions have been from islands. Island species are 14 times more likely to be critically endangered.
Increasing pressure on these often small, isolated populations has spurred conservationists to develop creative, rigorously monitored, inspirational, inclusive and well-managed programmes. This book, written with the benefit of decades of experience, guides the reader through the stages involved to plan, initiate and maintain ongoing conservation schemes, from small-scale, low-tech projects through to the use of DNA markers to monitor genetic diversity, as in the formerly critically endangered Seychelles kestrel.
Underpinned with relevant background theory to understand evolutionary and ecological processes, outlines of goal setting, management and behavioural change theories make this a useful toolkit. All of the chapters include detailed case studies to illustrate the lessons learned.
The successes shine like beacons of hope or guiding lights in the gloom of ever increasing rates of global biodiversity loss. Setbacks, lack of community involvement or limited outcomes of some other initiatives provide clear illustrations to enable planners to avoid pitfalls. The need for focused planning, including feasibility studies, and the necessity to fully engage local communities is stressed.
This hugely readable book is an excellent supplementary undergraduate course text, providing a wealth of examples of theory being put into practice. For postgraduates embarking on conservation research proposals, it is an invaluable handbook to assist them in structuring their approach.
Dr Alexander Waller CBiol MRSB