Smilodon: The Iconic Sabertooth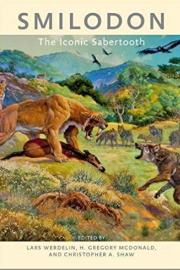 Lars Wardelin, H Gregory McDonald, Christopher A Shaw
Johns Hopkins University Press, £81.50
"I wish I'd been there!" I thought as I pictured a party of Smilodonophiles gathered in a car park in the Rocky Mountains. They were there to witness a set of mechanical metal jaws sinking its teeth into roadkill – in fact, a simulation of Smilodon fatalis attacking its prey.
The event took place at the first International Sabertooth Workshop in 2008 and attracted palaeobiologists from three continents, and was where the idea for the book was devised.
The text of Smilodon is a compilation of studies by 20 experts providing impeccable coverage of a range of subjects relating to sabretooths – including the history of discoveries, dietary ecology, phylogenetics, killing, skulls, palaeopathology, ontogeny and growth – set out in 12 well-written scientific contributions reflecting thousands of hours of dedication.
The text is interspersed with 'little gems', short stories adding a human touch to the scientific detail, such as the complications involved in the sale of scraps of Smilodon skin.
The approach to many of the aspects of research can be applied to establishing answers to a number of queries in other fields, especially with regards to computational biomechanics and the efficiency of apex predators.
Finally, the vast amount of reference material devoted to the three species of Smilodon found across North and South America is detailed at the end of each chapter along with acknowledgments.
Jean Wilson MBE CBiol FRSB