The Rutland Water Ospreys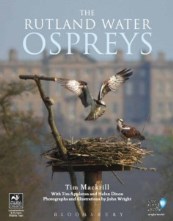 Tim Mackrill
Bloomsbury, £25.00
In March Rutland's most successful breeding osprey '03(97)' returned from western Africa, only to be met by bitter winds and blizzard conditions. Marking the return of these iconic birds this year was the publication of Tim Mackrill's The Rutland Water Ospreys.
This beautifully constructed book, with exquisite photography and detailed illustrations by John Wright, documents the personal, local, national and international stories of the re-establishment of the osprey in the British countryside.
Mackrill eloquently describes the successes, failures, trials, tribulations and triumphs of the project, a pioneering attempt in Europe to translocate the birds. With close connections to projects in Scotland, it has inspired similar programmes in Italy and Spain, and directly influenced the Welsh osprey population, providing an admirable example of how important national and international cooperation are to conservation success.
Mackrill's thorough and insightful text is supported by the diaries of various volunteers; placed in a broader historical context by Tim Appleton and Helen McIntyre; and introduced by Roy Dennis. It therefore offers a conglomeration of the most passionate individuals dedicated to the success of the osprey in Britain.
As is to be expected, the text has a tendency towards self-congratulation and does not attempt to address the wider conservation controversies of reintroductions and translocations, which many deem to be unnecessary. Nevertheless, this book offers an inspiring accompaniment to a project that demonstrates the importance of nature in bringing together local and global communities.
Lucy McRobert