Dragonflight: In Search of Britain's Dragonflies and Damselflies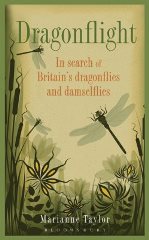 Marianne Taylor
Bloomsbury, £16.99
What came first – our invention of the dragon or our discovery of the dragonfly? This is the story of a woman's adventures and travels in her quest to see all native British dragonflies in a year. The narrative moves around the UK in the chase for rare sightings in known habitats of different dragonflies.
Explaining the start of her fascination with dragonflies, Taylor describes retrieving a dragonfly seemingly broken and dead from a cat's well timed leap, then seeing it 'repair itself', rest for a moment and fly away.
An overview chapter lists the dragonflies found in the UK, with other chapters providing additional information about some of these species. Anecdotes from visits to nature reserves, woods and marshes in the search for elusive dragonflies and damselflies are entertaining and set against the background of everyday life and changes in personal circumstances.
Alongside the dragonfly narrative are sightings and recommendations of places to look for other species and how to find these. Kestrels, hobbies, kites and rare migrant species all get a mention. Recommendations are given for photographic equipment, how to take good quality photographs and internet forums on recent wildlife sightings.
Dr Amanda Hardy AMSB