Drugged: The Science and Culture Behind Psychotropic Drugs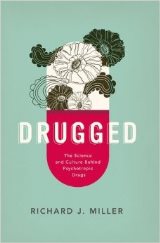 Richard J Miller
Oxford University Press, £12.99
Drugged is an amazingly well researched book that takes the reader through the history and social impact of psychotropic drugs throughout human history. Miller describes the use of these drugs for religious, spiritual, recreational and medicinal purposes. He also outlines the history of the major pharmaceutical companies and the process of drug development, as well as suggesting where the future may lead as we improve our understanding of how and why drugs affect our bodies.
This is indeed an eye-opening book that leaves the reader well informed about what psychotropic drugs are and how they work. Miller tells the story of how many common prescription drugs were discovered and developed, including the processes needed to get them approved by the FDA or equivalent. He gives the reader detailed and interesting information about the origins of many household names such as Prozac, Aspirin and Valium, and the scientists behind their development.
Miller outlines the biochemistry of these drugs and adds to his explanations with images and diagrams including archive photos – for example the 'tincture of cannabis' that used to be sold in chemists. He puts these developments in context and presents the stories behind each one in a novel way.
I would recommend this book to anyone who is curious about the human society's complicated relationship with psychotropic drugs and who wishes to improve their understanding of how these substances affect our bodies.
Helen Stamp