Shades of Green: an Environmental and Cultural History of Sitka Spruce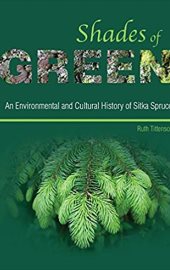 Ruth Tittensor
Windgather Press/Oxbow Books, £29.95
This is a book about a deeply contested species of tree, Picea sitchensis, the Sitka spruce, perceived on one side of the globe to be a source of bountiful wealth and versatility, and on the other as a destroyer of beauty and biodiversity. Competing visions, geographically disparate, yet rooted in eco-cultures and discourses.
In North America, Sitka spruce brings prosperity and is spiritually revered by First Nations in the northwest Pacific; in the UK, after its deployment by the fledgling Forestry Commission after 1919 as a cure for our domestic timber woes, it has brought censure, anger and unending darkness to the upland ecosystems it blankets.
The author, Ruth Tittensor, negotiates these complex, conflicting and changing debates with skill, wit and the sharp eye of an environmental historian as captivated by sociocultural stories as she is by mere species history. There are tales here of explorers, botanists, landowners, foresters, ornamental gardeners, conservationists, eco-campaigners, tax avoiders and landscape architects.
It is a multifaceted and lavishly illustrated study, rich in scholarship from primary sources and oral history, political engagement and cultural connection. That it talks of a tree and not a tiger makes it all the more refreshing. Might Sitka spruce plantations become the "new temperate rainforests" of Britain and Ireland, the author open-mindedly asks?
Dr Rob Lambert