Ethnopharmacologic Search for Psychoactive Drugs: 50 Years of Research 1967–2017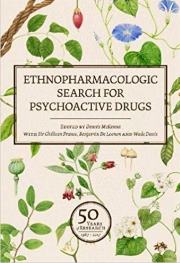 Edited by Dennis McKenna with Sir Ghillean Prance, Benjamin De Loenen and Wade Daviss
Synergetic Press, £88.99 (hardback), $19.99 (eBook)
Ethnopharmacologic Search for Psychoactive Drugs provides a definitive view of the past and current state of research looking at the uses of psychedelic plant substances for a variety of uses, including the medicinal, therapeutic and spiritual. This is a beautifully bound two-volume folio covering the past 50 years of this research – or, more accurately, the 50 years spanning the first and second conferences (Volume I centres on the proceedings of a symposium held in San Francisco, California, in 1967 and Volume II looks at the 50th anniversary symposium held in 2017).
Plants have been consumed for millennia for a number of reasons, from treating ailments to religious rituals, and many pharmaceuticals have used extracts from these plants. However, the knowledge of other effects of the chemical, such as psychoactive properties, remained largely untouched. Therefore, in 1967 the first interdisciplinary meeting about 'psychedelic' drugs was held, sponsored by the National Institute of Mental Health. The original idea was to hold a meeting every 10 years. This never happened.
The terms 'psychedelic' and 'psychedelic drugs' in 1967 didn't have the negative connotations that many still associate with them today. These types of drugs were still linked with religious ceremonies and tribal traditions, and were not seen as anything overly dangerous. However, this all changed not long after the first meeting. The word and the drugs became seen in a negative light and, with that, the attitudes of the public and politicians changed. No longer would a government agency ever dream of sponsoring such an event. Unfortunately, this led to a reduction in research and is why progress has been slow in this area.
The two volumes are truly fascinating records of how far this research has come in 50 years, and tell a tale of how politics and attitudes can affect knowledge/scientific research. While Volume I radiates an excitement of the potential of this research and sets forth plans, Volume II dashes that slightly, telling the story of what happened in the interim years and why it took so long for the second meeting to occur. However, the research within this volume shows that research on psychoactive drugs is finally being taken seriously as a science discipline by the wider community.
This two-volume set has everything – science, history, politics and personal recollections – and is highly recommended.
Claire Price MRSB