Genetic Management Of Fragmented Animal And Plant Populations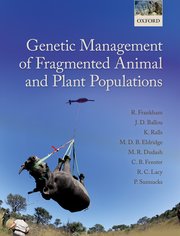 R Frankham, JD Ballou, K Ralls, MDB Elridge, MR Dudash, CB Fenster, RC Lacy and P Sunnucks
Oxford University Press, £80.00
An understanding of genetic variation has always been a significant component of species conservation, even though conservation efforts have often been more commonly focused on habitat management.
Put simply, conservation relies on the target species having a degree of genetic variation sufficient to avoid inbreeding depression and to be able to respond to natural selection.
Connectivity between populations effectively means the suite of alleles that contribute to population variation is larger than if populations are isolated.
The challenge is to manage populations to ensure they are connected – what the authors term 'augmented gene flow'. These apparently simple concepts are confused by various factors, including breeding system, ploidy level, population size and climate change. For conservation managers, often with very little background in genetics, the challenge is also in understanding the concepts. This book sets out to enable practitioners and students of conservation to understand the concepts so they can make informed decisions about management that utilises genetic data.
In this aspiration, the book succeeds. Readers are taken through the basic concepts of population genetics, then into a consideration of the methods of genetic rescue and potential risk before the final section, the longest, focuses on making management decisions. The book is well written, with a wealth of relevant plant and animal examples in a clear, accessible format. Particularly useful is the explanation of the various population genetics statistic approaches, as is the extensive glossary. I highly recommend this book for both academic and practising conservation managers.
Professor Paul Ashton