Help shape future policies and create a lasting legacy of the International Year of Plant Health (IYPH) 2020. Whatever your career aspirations, background and experience, if you play a role in plant health, we want to hear from you.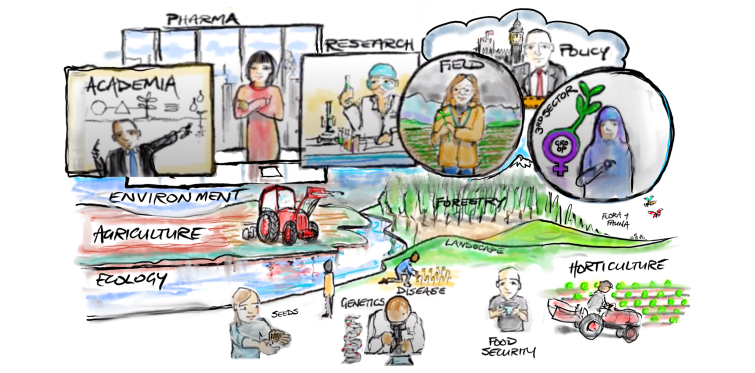 As part of the
IYPH2020 celebrations
, the UK is organising a national conversation for international impact. If you have up to 10 years work experience in plant health and have ideas about how we can do things better in the future - join us; share your thoughts and grow your network.
The Event
The Summit will be a national virtual conversation operating in 3 stages between October 2020 and January 2021, culminating in a summit meeting from 2nd - 4th March 2021.
The summit meeting will be addressed by keynote speakers including Lord Gardiner, Minister for Rural Affairs and Biosecurity, Professor Nicola Spence, Chief Plant Health Officer, Defra, and Professor Gerry Saddler, Chief Plant Health Officer for Scotland and Head of SASA. Read more about our speakers.
The national conversation is being conducted by the CreativeConnection team working with Celia Knight Consulting.

Visit the dedicated website to see how the conversation is going so far, and for further information. Full details of the summit will be available in the new year.

Who can join?
Anyone whose work is relevant to keeping plants healthy, or relies on plant health - from those working in agriculture, horticulture, forestry, food, research, landscapes, retail and more.
If you know a colleague who would be interested or benefit from taking part in the summit, please forward them the link to apply.
What will the outputs be?
Your ideas will be compiled, visualised and shared with the community of participants and speakers, including policy makers and other interdisciplinary leaders. Through an agile process of conversation, improvement and iteration, this network of ideas will be combined for community agreement to create a dynamic and collaborative summit programme, focused on tackling today's grand challenges related to plant health. A report on the summit will be published and widely disseminated, with the potential to influence decision making at all levels across sectors involved in plant health.
Application details
Initial applications for the first round of the national conversation have now closed, but it is still possible to get involved. We welcome those interested in joining the process to contact us. Please email plantsci@rsb.org.uk to register your interest and for information about how to join this activity.
Joining the conversation is free but a modest charge may be incurred for attendance at the summit meeting in March 2021; this will be confirmed in the new year. This meeting will be held virtually, and it will be dynamic and influential.
Registration for the summit

Registration for the summit is will open soon. Only those who have been part of the pre-summit conversation are eligible to attend.

Continuing Professional Development (CPD)
The Plant Health Summit is approved for the purposes of Continuing Professional Development (CPD) by the Royal Society of Biology. Participants can claim 20 Royal Society of Biology CPD credits for participation in the national conversation and the summit.
Supporters
Thank you to our event supporters: The Gatsby Charitable Foundation, British Society for Plant Pathology, Animal and Plant Health Agency, Syngenta, SASA, Biochemical Society, Microbiology Society, Plants People Planet, Society for Experimental Biology. The full list of sponsors are on the
dedicated website
.


Contact