The theme for our annual photography competition is Biology: from Big to Small.
Get snapping and submit by midnight on Wednesday 31st August 2016!
From avalanche to zooplankton. From nanotechnology to the world's largest sewage systems. From the arid landscapes of Australia to colourful lichen encrusting trees in a suburban garden.
We invite amateurs to use photography to explore interactions between the macro and the micro in biology – from tiny fish creating huge shoals, to algal blooms suffocating a river ecosystem, or microorganisms eating plastic waste in our oceans.
We also encourage entries captured by a microscope, from dispersing fungal spores to grains of sand. The fluorescence microscope, for example, provides an interesting window into the world of the cell and is great for examining living and fixed cells in culture.
Awards
There are two categories in the competition, each with a cash prize:
Photographer of the Year (18 and over) - £1,000 top prize
Young Photographer of the Year (under 18) - £500 top prize
How to enter
To enter this free competition you need to register your details with the website. Existing users can login with their mySociety details. If you have trouble resetting your password contact Karen Patel. All submissions must comply with our terms and conditions.
Please note: portrait images may appear cropped on the final submission webpage but submitted files will not be edited

Judges
Catherine Draycott, Wellcome Images
Tim Harris, Nature Picture Library and Bluegreen Pictures
Alex Hyde, natural history photographer and lecturer at The University of Nottingham
Louise Murray, freelance photojournalist
Linda Pitkin, Underwater photographer
Sponsors
The Society wishes to thank Eppendorf for their support of this competition.

Winners
The winners will be announced at the Royal Society of Biology's Annual Awards Ceremony on Thursday 13th October during Biology Week 2016.
Contact
The closing date for all submissions is 31st August 2016 (23:59 BST). If you have any queries regarding this competition, contact Karen Patel at photocomp@rsb.org.uk
Promotional poster
Our poster features Lukas Gawenda's 'Bisons on Grand Prismatic Spring in the USA', which received a highly commended accolade in 2014. Download a pdf or get in touch to get hard copy posters.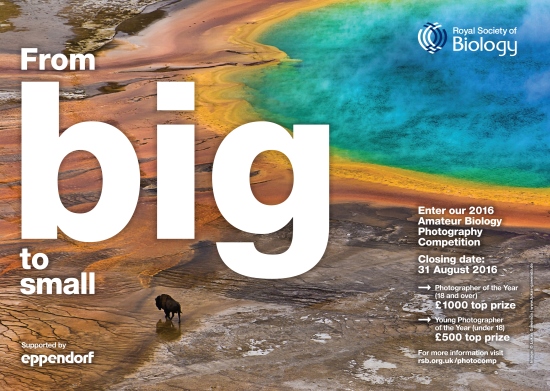 ---
Past winners
The 2015 theme was 'Conflict and Survival'. The winners were celebrated at the Biology Week Annual Award Ceremony and the Society would like to congratulate young photographer Oliver Tidswell (left) and photographer Barbara Stanley (right). View all the shortlisted images in our gallery.

The 2014 theme was 'Home, Habitat and Shelter'. The winners were celebrated at the Biology Week Annual Award Ceremony and the Society would like to congratulate young photographer Nagarjun Ram (left) and photographer Billy Clapham (right).

The 2013 theme was 'Feeding Life' and the competition was won by young photographer Jack Settle (left) and photographer Putu Sudiarta (right).

The 2012 theme was 'How can biology save the world?' Congratulations to eight year old winner Ziamel Zacarias (left) and photographer Chi Keung Wong (right).