What's on: Biology Week 2019
Are you thinking of running a Biology Week event?
Last year, more than 100 events took place worldwide as part of Biology Week 2018. We want to help you advertise and promote your Biology Week 2019 (5th-13th October) event! Add your event to our central Biology Week Calendar, and we'll promote it through our communication channels.
Need help organising an event? Check out our handy event guides to help you plan and run something exciting for Biology Week 2019.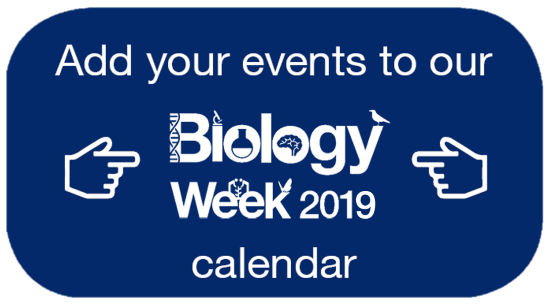 Mugdock Country Park. Craigallian Road, Milngavie, Mugdock, Glasgow G62 8EL
Free day of science fun at the Middle of Scotland Science (MoSS) Festival

Royal College of Physicians, 11 Saint Andrews Place Regent's Park, London NW1 4LE
A free Policy Lates on insect declines
The Royal Society, London, 6-9 Carlton House Terrace, London SW1Y 5AG
A two-day scientific discussion meeting from The Royal Society

The Royal Institution of Great Britain, 21 Albemarle Street, London W1S 4BS
Find out about the science of reducing ocean plastics from a panel of experts at this debate
Kensington Park School (6th Form), 59 Queens Gate, London SW7 0JP
Find out how we can support your teaching, including an exhibition and practical workshops
The Royal Society, London, 6-9 Carlton House Terrace, London SW1Y 5AG
A two-day scientific discussion meeting from The Royal Society

Churchill Room, House of Commons, Houses of Parliament, London SW1A 0AA
A celebration of biology in the House of Commons in partnership with BBSRC
Online
An opportunity for RSB members to attend the Biology Week Parliamentary Reception

The Francis Crick Institute, 1 Midland Road, London NW1 1AT
The annual awards celebrates the achievement of our members and bioscience enthusiasts
Online
An opportunity for RSB members to attend the Biology Week Annual Awards Ceremony
Misty Meadows Alpacas, Quarry Lane, Maxey, Peterborough PE6 9HJ
Meet a herd of alpacas and walk with them at this idyllic setting
Misty Meadows Alpacas, Quarry Lane, Maxey, Peterborough PE6 9HJ
Meet a herd of alpacas and walk with them at this idyllic setting

Online
Take part in this social media campaign where biologists take over twitter

Science Centre, Staffordshire University, Stoke-On-Trent ST4 2DF
A mini Science Festival with Biology at its heart
Science Centre, Staffordshire University, Stoke-On-Trent ST4 2DF
The crucial role of potters in the war against microbes at this Big Biology Day