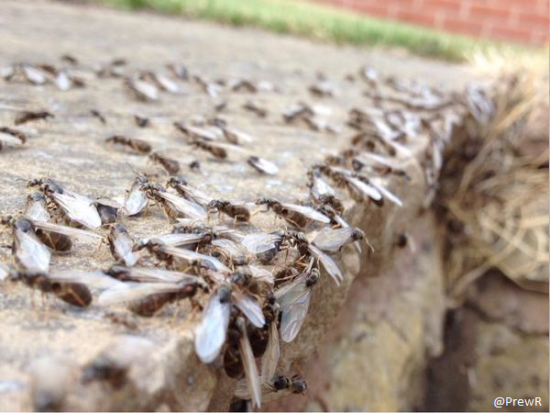 Flying ants often seem to appear on the same day in different locations in the UK – flying ant day.

Ants aerate soil, help to cycle nutrients, improve garden fertility and control pests. Most ant colonies start with a flying ant - when young queens leave the nest to found their own colony.

However, after four years of our flying ant survey, we have found that flying ant day isn't as predictable as we had at first thought.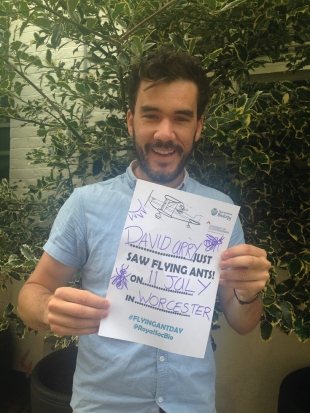 If you see flying ants this summer send us a picture of the ants and another of you holding an 'I just saw flying ants' sign, via Twitter or Facebook using #flyingantsurvey or via email.
Feel free to be creative with your pictures. You can download and print a sign, or you can make your own or use your tablet. We will share the best images and use the pictures and information we receive from budding biologists to create a video infographic mapping this summer's flying ant days - just like we did in 2015 (below). We would love you to be part of it this year!

Professor Adam Hart FRSB, The University of Gloucestershire said: "With 2016 already proving to be a wet one, it will be interesting to see whether we get a repeat of 2012, when most of the flights were compressed into just a couple of days in July and August between the rain. Of course, if it clears up we may see a repeat of the beautiful 'pulsing' pattern of 2014, with regular flights every couple of weeks."
On 2015's sightings he said: "Like 2014, we had a nice summer and, like last year, we saw a few flying days over the summer in lots of places. But even then, there seems to be a few ant-tastic days where, love them or hate them, you certainly couldn't avoid them! It's great to see so many people taking to social media to report their sightings and add to our growing knowledge of this fascinating annual event."
Results from 2012, 2013, 2014 and 2015 were announced during Biology Week. The results of our formal three year survey (2012-14) will be published in 2016.
The appearance of thousands of flying ants is an amazing phenomenon, and you can read more about why ants fly or some general facts about flying ants.

This project is run in collaboration with Professor Adam Hart from The University of Gloucestershire. Adam explains the results from the first two years of the flying ant survey in the video below. You can also hear Dr Rebecca Nesbit MRSB discuss the survey in a podcast.

The Royal Society of Biology and The University of Gloucestershire would like to thank everyone who takes part in the flying ant survey.
Supporters of the flying ant survey may also be interested in our seasonal allergy project and citizen science app #BritainBreathing - keep track of your symptoms and help scientists find out more about how pollution, weather and pollen affect seasonal allergies like hayfever and asthma.
You may also like to download our free house spider identification app 'Spider in da house' which is available through the Android and Apple app stores. You can read information on common spider species seen indoors and lots of spider facts.