Travel Grant (Affiliate/AMRSB)
Award
Five grants of £500 are available each year.
Applications should be for future innovative biology-related projects abroad.
Applications for future overseas conferences will be considered.
Applicants may use the award to attract additional funding but the Society will still expect prominent recognition.
Eligibility
This grant is open to student affiliate and associate AMRSB members of the Society only. Those who are eligible to transfer to the member MRSB grade will not qualify for the award.
Non-members can apply for the grant providing they have submitted a paid membership application for student affiliate or associate AMRSB membership. Find out about our different membership grades.
Those who have applied for the grant but have been unsuccessful can apply again.
Previous Travel Grant (and Travelling Fellowship) recipients are not eligible to apply again.
Applicants must be over the age of 18 at the time of travel.
How to apply
The 2017 grants closed for application on 1st March. All applicants will be notified of the outcome by the end of March. The 2018 grants will open in November 2017.
Further details
The application includes a 300-500 word statement where the applicant needs to specify details of the conference or project, how the grant will be spent, how the applicant will benefit from this opportunity and the expected outcomes of the conference or project.
The application must be accompanied by a two page CV including details of two referees.
Recipients will be personally responsible for all arrangements and expenditure including travel, insurance, home and personal commitments.
Recipients must submit a report describing the work carried out with the aid of the award within six weeks of completion.
The Society has copyright of this report and will publish some or all of the reports online; some may be published in its magazine The Biologist.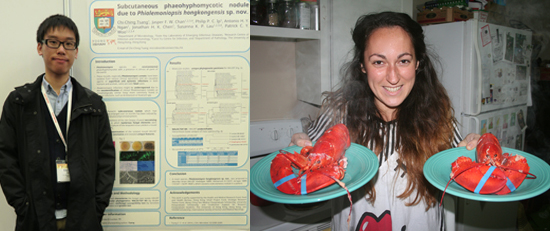 Chi-Ching Tsang at the 19th Congress of the International Society of Human & Animal Mycology in Australia and Charlotte Eve Davies at the AVC Lobster Science Centre in Canada. Read reports from our previous grant recipients.
Contact
If you have any queries regarding eligibility or submission, contact Raghav Selvam.