A Guide to the Birds of Trinidad and Tobago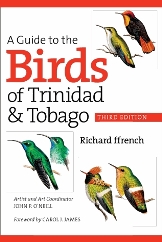 Richard ffrench
Cornell University Press, £25.95
From tiny hummingbirds to spectacular scarlet ibises, Trinidad and Tobago provides wonderful birding and this guide does the island's brilliant bird life justice.
This is the third edition of the book but the 40 colour plates, produced by a group of eight artists, are new. Although tightly packed, the plates beautifully depict Trinidad and Tobago's bird life. This edition also includes pictures of more vagrants and a complete species list updated to 2010.
Small enough to take into the field, this book is presented more as a reference guide. It contains interesting background information about the islands and their habitats, but also some arguably superfluous information in the rather verbose species accounts (particularly for vagrants). It would have been more user friendly as a field guide if the plates had been next to the species accounts and if distribution maps had been provided for localised species.
If you are planning a trip, I can thoroughly recommend this book. If you're not planning a trip, I thoroughly recommend it too.
Dr Rebecca Nesbit MSB & Phil Gould