Agroecology: The Ecology of Sustainable Food Systems, third editio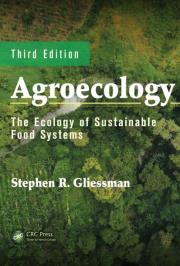 Stephen R Gliessman
CRC Press, £52.99 (e-book £34.99)
As well as considering the application of ecology to the design of sustainable agriculture, in this book Stephen Gliessman explores the social, cultural, environmental and economic aspects of our food systems. He takes a whole-systems approach based on traditional knowledge, alternative agriculture and local food systems.
Throughout Agroecology, Gliessman is very critical of current agricultural practices, and he introduces the many ways in which industrial agriculture is unsustainable and risks compromising future productivity in favour of high productivity now.
Much of the book focuses on the biology of agricultural ecosystems, both of cultivated and wild species. It also explores some management options for agricultural ecosystems, including cover crops, on-farm diversification and crop rotations.
The final chapters propose some solutions for changing the corporate nature of food production, suggesting ways to bring farmers and consumers closer together in an alternative food system.
The text is accessible and is accompanied by case studies. At the end of each chapter, there are interesting questions raised as 'food for thought', along with recommended reading and links to online resources.
You may not agree with all that is said in this book – Gliessman is extremely disapproving of genetic modification, for example. I particularly struggled with his narrative that players in the current system think only of yields and not of the environment.
Nevertheless, Agroecology still provides a thorough and interesting overview of an extremely pertinent issue.
Dr Rebecca Nesbit MRSB