Britain's Spiders: A Field Guide (Second Edition)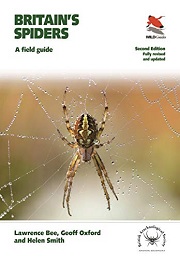 Lawrence Bee, Geoff Oxford & Helen Smith
Princeton University Press WildGuides Series, £25.00
There are more than 680 spider species in Britain, around 400 of which can be identified at least to genus in the field, and very often to species. Although the British fauna is well served with identification works, the only photographic guide until recently was Dick Jones's 1983 Country Life Guide to Spiders of Britain & Northern Europe, now long out of print.
The first edition of Britain's Spiders in 2017 offered a greatly improved photo guide to the identifiable 'macrospiders' in a single, chunky volume that is packed with information. Barely a centimetre of page space is wasted, although this tends to make the pages look rather busy, and there is heavy reliance on pictograms.
This second edition offers a fully revised and updated account, which includes nine recently added species and the latest nomenclature. The first 130 pages give a brief but detailed introduction to spider anatomy, biology and study, together with well-illustrated keys to families and genera, and to web types and egg sacs. The bulk of the book comprises the species accounts, which are beautifully illustrated with photos. Key features are briefly described for each species, together with notes on habitat, biology and similar species, a thumbnail distribution map and rarity/conservation status.
The figures are clear and of high quality, successfully capturing the essence of the living animal. Closing sections cover fieldwork tips, recording, legislation, conservation and a tabular checklist of all the British species. This fine work, co-produced with the British Arachnological Society, offers the best introduction and field guide to British spiders by a country mile.
David Clements MRSB