Dragons and Damsels - An Identification guide to the British and Irish Odonata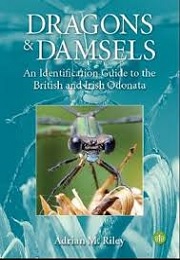 Adrian M. Riley
Brambleby Books, £22.00 (hardback)
Author Adrian Riley has used his 40 years of entomological experience to assemble a detailed and comprehensive guide to the identification of British and Irish damselflies and dragonflies.
After an example of how to use the book for identification purposes, the first section of the book deals with the anatomy of these insects and this is supported with excellent labelled colour images. Separate sections deal firstly with detailed species accounts followed by a guide to identification based upon appearance rather than taxonomic groupings. This means that males and females may be dealt with separately if their appearance differs.
Focusing on appearance is aimed at improving 'user-friendliness' and to make identification more straightforward. Complementing the descriptions of observable characteristics are high quality colour photographs that significantly increase the accessibility of this guide to a wide range of readers interested in the British and Irish Odonata.
This guide covers all of the resident species of 'dragons' and 'damsels' as well as the annual visitors/colonists, scarce assisted visitors and extinct species, although identification guidance is only provided for the resident species. For each species listed information is provided on description and identification, flight period, distribution and status, habitat preferences, similar species and behaviour/field tips drawing upon the author's extensive experience.
Full and detailed systematic and reference lists are provided to round off an extremely useful identification guide that will appeal to a wide variety of readers, ranging from observers to recorders of these fascinating insects.
Dr Alan Woollhead