Iconotypes: A Compendium of Butterflies and Moths. Jones' Icones Complete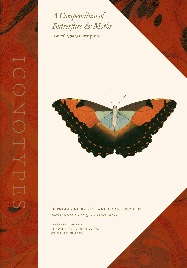 Richard I. Vane-Wright (Ed.)
Thames & Hudson, £65.00
William Jones (1745-1818) is not well-known amongst the pioneering lepidopterists of the 18th and early 19th Centuries, but he surely deserves to be. Jones was a wealthy London merchant who, upon retirement around 1780, turned to illustrating the many newly discovered butterflies and moths flowing from all over the world into the collections of British entomologists and institutions at the beginnings of entomology as a proper science. He was a skilled and accurate illustrator, a disciple of the then-novel principles of Linnaeus, at the very foundations of modern butterfly systematics.
Between 1780 to 1800 he produced over 1300 illustrations of 'new' Lepidoptera from six continents, drawn from specimens in his own collection and those of his many entomologist friends. Whilst perhaps not as artistically pleasing as those of Moses Harris, they are nevertheless of great aesthetic merit, and their scientific accuracy was such that Fabricius was able to describe some 231 new species from his illustrations alone.
After Jones' death the plates were gathered together by Oxford University Museum into a seven-volume series for publication, although this could not be achieved until now. This sumptuous 687-page volume faithfully reproduces Jones' plates at original size, with copious supporting context and commentary. Each volume-chapter is prefaced by an expert essay on subjects including Jones' entomological milieu, the development of early entomology and the artistic methods used, together with maps showing the origin of the specimens illustrated. Each life-sized plate is accompanied by a modern interpretation of the taxon illustrated, its current taxonomic status and its known distribution.
Comprehensive indices and a five-page bibliography are also provided. It is a work of great beauty and value, superbly rendered, and an absolute snip at the price.
David Clements, MRSB