Lizards of the World: Natural History and Taxon Accounts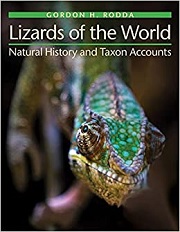 Gordon B Rodda
Johns Hopkins University Press, £111.00
Lizards, and reptiles more broadly, are often the brunt of any taxonomic joke. 'Solitary', 'innate' and 'sluggish' are all words associated with lizards, but these are simply the opinions of people have not spent time with lizards! Chat to a herpetologist and you will find that this old-fashioned view of the lizards is outdated.
With 6,528 lizard species identified, lizards are a diverse group of colourful creatures, with a variety of different life histories, traits, sociality, behaviour, and cognition.
The Lizards of the World is a game changer for lizard research. Never to my knowledge have we had at our fingertips a more encyclopaedic summary of lizard natural behaviour. Author Gordon Rodda, over the course of an impressive eight years, has described in detail the life histories of each known lizard family or genera. In collecting this information, he identified that the majority of lizards are poorly studied and he urges that more research is needed.
This book is an essential reference tool for herpetologists and lizard enthusiasts alike. Hopefully, it will also encourage more people to study and marvel at the wonders of lizards.
Dr Harry Siviter