Mabberley's Plant-Book: A portable dictionary of plants, their classification and uses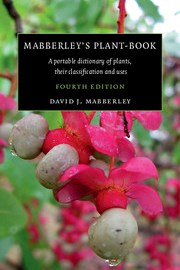 David J Mabberley
Cambridge University Press, £54.99
One of the joys of a good botanic garden is that its plants are labelled with their generic and specific names. For such times, having a Mabberley's in hand is essential and without equal. This fourth edition is better than ever. It is literally a handful, at 850g and with a thousand pages, but printed with the very finest strong paper and in fine type. With its red silk page marker, it is positively biblical.
Mabberley's Plant-Book is entirely alphabetical – by genus for any binomial; by family, order or subclass for taxa details; and also for all those vernacular English names. There are also our plant name adoptions from different tongues – such as alphalpha, burrawang or chiquito – that one might encounter in a plant text, for which one needs identity. In all, there are some 25,000 entries on the entire world's vascular plants.
Moreover, the author is kind to those enquiring of outmoded names – thus quests for amaryllis, geranium, leylandii and so on will point you in the right direction to Hippeastrum, Pelargonium and x Cuprocyparis. Each entry goes briefly through a plant's taxonomy and distribution.
There is then revealed – and this is the book's astounding achievement – a wealth of horticultural, agricultural, medicinal and other importances. Although intelligently abbreviated, the meaning is quickly clear. One of the finest features of the book, not possible by internet searching, is the serendipity of reading odd entries that you may meet in passing.
There are needed appendices on the abbreviations and an informative discussion of the limitations of simplistic DNA-cladistics for a plant world of rampant hybridisation and polyploidy. It is an essential for every plant scientist and worth every penny for the knowledge imparted.
Stephen P Tomkins CBiol MRSB