Natural History Dioramas – Traditional Exhibits for Current Educational Themes: Socio-cultural Aspects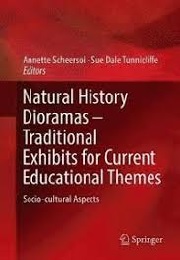 Edited by Annette Scheersol and Sue Dale Tunnicliffe
Springer, £99.99
Dioramas – the positioning of dead, stuffed organisms to create life-like scenes, are probably familiar to most natural history museum visitors. Considered by some as typical of old-fashioned museum displays, they are making a comeback according to the editors of this book.
The chapters are written by various professionals with interests in dioramas; including curators, taxidermists, scientists and educators. The authors come from around the world, particularly the Americas and Europe; there appears to be no input from Africa or Asia, but perhaps this might be volume four. Chapters are grouped into three sections: 'reaching different types of audience', 'problematic aspects' and 'connecting people with the natural world'. Michael Reiss provides a final summary chapter that considers the overall relevance of natural history dioramas for socio-cultural issues. In this, the point is made that dioramas 'inevitably reflect the values of the individuals who commission and create them and the societies in which they live and work.'

Chapters are fully referenced with short biographies of the chapter authors. Illustrations vary, most chapters have at least one black and white photograph, and some chapters also include diagrams. The image of a mouflon (wild sheep) in a woolly jumper in a diorama featuring the interior of a domestic flat is perhaps one of the most bizarre.
For a hardback of 211 pages, at the given price, readers are most likely to be those professionally interested in dioramas and this particular aspect of science education/communication.
Dr Sue Howarth CBiol FRSB