Nature's Calendar: A Year in the Life of a Wildlife Sanctuary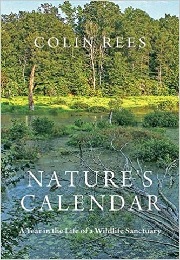 Colin Rees
Johns Hopkins University Press, £24.50
In this absorbing book Colin Rees has documented his encounters with the incredible range of flora and fauna encountered on his forays into the Jugg Bay Wetlands Sanctuary and its surrounding areas.
His accounts of the sights and sounds of the natural world, experienced month by month through a whole year, provide the reader with an insight into the way nature changes and adapts with the changing seasons. He illustrates the relationships between organisms and the shifting climatic conditions, demonstrating the adaptations necessary for survival in an ever-changing environment.
It is clear that Jugg Bay is a naturalist's paradise as the diversity of species encountered in January alone is impressively extensive. In each month Rees has made several trips into the wetlands and has documented his observations in exquisite detail. He has managed to find specific aspects of the wildlife to focus on during each outing and the reader is given a rich insight into the lives of the many inhabitants of the reserve.
Several ecological issues are touched upon, including climate change, habitat fragmentation and pressures from development as well as interesting accounts of microbial diversity, bird ringing and butterfly phenology.
The book is complemented by more than two dozen colour plates as well as several black and white images. For scientists, naturalists and the interested amateur this book is a pleasant read and champions the diversity and complexity of this unique and fragile ecosystem situated in Southern Maryland, Eastern USA.
Dr Alan Woollhead