Plant Conservation: Why It Matters and How It Works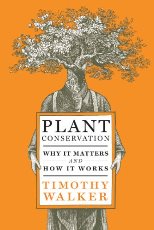 Timothy Walker
Timber Press, £14.99
This book covers a wide variety of topics and is structured around the Global Strategy for Plant Conservation, issued in 2000 and adopted in Nagoya in 2010. Each of the 16 global targets of the strategy are addressed in the course of the text and the conclusion is a paragraph on each target, with suggested actions and who should be involved in addressing them.
It covers many issues beyond straightforward conservation using examples from around the world. The first chapter puts things into context by discussing origins of plants, photosynthesis, domestication and agriculture. A good balance is achieved between conservation, methods of sustainable use and lifestyle. The most basic message conveyed is that if we are to conserve plants, our present lifestyle needs to be modified.
The text is interspersed with a large number of informative boxes printed on a green background that should be useful to teachers using this as a guide for courses in conservation. The many examples vary from the author's experiences at the Oxford Botanic Garden and its Harcourt Estate to details about the International CGIAR Centres or a medicinal plant garden in Ghana.
The text moves around through time with the contributions of many historical characters of botany such as Gaspar Bauhin, the Bartrams, John Ray and Charles Daubeney interspersed with the most modern approaches to conservation, such as seed banking, restoration ecology and DNA barcoding. It is refreshing to see that, overall, a positive and hopeful approach is taken to conservation in the widest sense.
Ghillean Prance FSB