The Botanical Adventures of Joseph Banks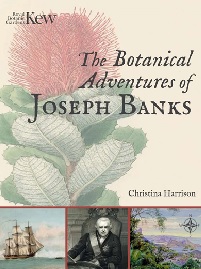 Christina Harrison
Kew Publishing, £15.00 (hardback)
This is a beautifully presented and illustrated book, of about A5 size, written by the former editor of Kew magazine.
Joseph Banks was, and still is, a figure of global significance. Much has been written about his life; indeed many references are included in the book as sources for further reading. Born in 1743 and brought up as a wealthy Georgian young man, attending Harrow and Eton, he was not academic but developed a love of plants and a passion for botany.
We are taken through his life in a series of nine short chapters, accompanied by illustrations of his belongings, plants he collected, and paintings of his friends and collaborators. Many of the illustrations are held at Kew Gardens where Banks became unofficial director, developing Kew into a place of international botanical significance.
Harrison takes us with Banks on many of Britain's nautical expeditions to exotic locations where he collected plants, including expeditions to Labrador and Newfoundland, Captain James Cook's voyage on the Endeavour where he circumnavigated the globe, and Captain William Bligh's travels on HMS Bounty to collect breadfruit.
The great delight of this book is the wealth of plant illustrations, and many of the plants can be seen today in Kew. I am only sorry that the illustrations are not of higher resolution or of more vivid colours, but that would have made for a much more expensive book.
This is an excellent introduction to the life of this amazing and complex botanical adventurer and pioneer, accessible to everyone who loves plants and has the spirit of travel and adventure.
Professor James Crabbe CBiol FRSB