The Molecule of More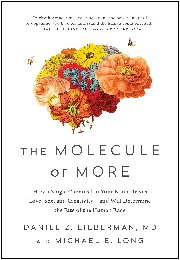 Daniel Z Lieberman and Michael E Long
BenBella Books, £20.00 (Hardback)
As I picked up this hardback book, with its nice cover, and intriguing byline, I was expecting to read something of the scientific research behind the dopamine molecule. However, after a few pages I was disappointed as it was more to do with the outline psychological effects of dopamine in love, desire and creativity.

It describes the fact that the initial buzz of something exciting doesn't last and this is due to the effect of the molecule receding. Something else is needed to maintain the initial excitement, whether that be love at first sight, the taste of a new food, or the buzz you get when you produce your first music single or work of art.
I enjoy popular science books that give some gritty scientific information, such as the ones by Nick Lane, Matthew Cobb, Roger Penrose or Graham Farmelo. I was hoping for such a book but was disappointed. The Molecule of More is well written and interesting, with some good examples, but didn't live up to expectations.
Tony Reynolds