The Pandemic Century: A History of Contagion from Spanish Flu to Covid-19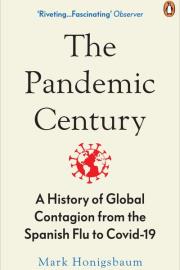 Mark Honigsbaum
Hurst & Company, £9.99 (hardback)
Journalist Mark Honigsbaum has updated his book Pandemic Century to include a new chapter on the pandemic that plunged the world into chaos shortly after his first edition was published last year. Honigsbaum's book, already relevant and important last year, now also tells the story of how SARS-CoV-2 emerged, soon after scientists warned that an unknown animal coronavirus might trigger the next global pandemic, and while others struggled to attract the funding required for rapid vaccine development platforms.
The new chapter details the scientific, political and social complacency that allowed the virus to spread around the world so devastatingly, leaving hundreds of thousands dead and Honigsbaum himself unable to determine whether he has had COVID-19 or not. Alongside worrying projections for the course of the pandemic in the months ahead, Honigsbaum reminds us that the only certainty is that there will be more plagues and pandemics to come and we must be better prepared.
The grim current events darken what would otherwise be an eminently enjoyable read, with medical journalist Honigsbaum building on his previous work on influenza and malaria to delve into our morbid fascination with pandemics more generally, and to examine the lessons learnt for future diagnosis, control and prevention.
A compelling narrative is constructed around nine (now ten) major global disease outbreaks of the last 100 years, from Spanish flu (in 1918) to Zika (in 2015) and COVID-19. Topics covered include pneumonic plague, tularaemia and Legionnaires disease, as well as the more recent HIV/AIDS, SARS and Ebola. The history of human pathogen pandemics is long and storied, so it is difficult to pick a representative list.
To be churlish it would have been good to see the swine flu crisis of 2009 receive more than a passing mention, given the hysteria at the time, as well as historical context setting by way of the Black Death bubonic plague that originated in China but decimated the population of Europe in the 1300s. Instead, the prologue steers a very different approach by comparing our arguably irrational fear of sharks to that we have for pathogenic microbes.
This book is an exhaustively researched and expertly written set of essays that together chronicle the past century's succession of unexpected disease pandemics and hint at ways in which to predict the next.
Prof Andrew Taylor-Robinson CBiol FRSB (updated by Tom Ireland MRSB).
Author Mark Honigsbaum recently gave a reading and talk on 'Pandemic Century' as part of the Royal College of Pathologists book club event in November, which can be seen here on Youtube.