"I think the UK bioscience response has been outstanding"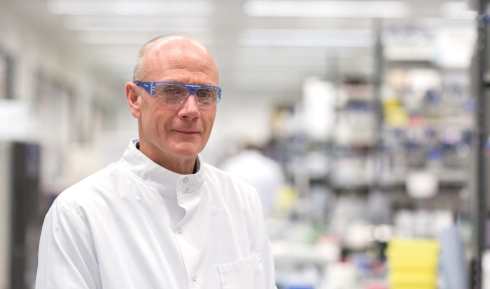 In under two weeks Professor Paul Freemont and colleagues have repurposed tools from synthetic biology research to create high-capacity, automated diagnostic platforms for NHS hospitals.
Can you tell us about what COVID-related projects you have been involved in?
About three weeks ago [09/04/20] I gathered the team from the London Biofoundry together (Dr Marko Storch, Dr Michael Crone, Dr Marta Ciechonska, Dr Kirsten Jensen and Miles Priestman) for a brainstorm about how our robotic platforms and automation expertise could help support COVID-19 testing.
We quickly realised that by reconfiguring some of our liquid handling robots we could contribute to the RNA extraction process and also integrate this into the PCR step using an automated setup. We chose to focus on the existing NHS workflow rather than introduce new testing assays (which we were also working on) in order to make an immediate impact and our platform, flat out, can carry out 1,000 tests per day.
We had also been developing synthetic viral like particles for another project, so we quickly made some more particles incorporating RNA from SAR-COV-2. We could then use this as an internal control and over that weekend, we tested the whole process several times and validated it internally in the Biofoundry.
The following Monday, we were able to locate one of the platforms to the Molecular Diagnostic Unit (MDU) at St Marys, led by Myra McClure and Graham Taylor. The beauty of the MDU is that it is an NHS referral lab so we could the quickly validate the process on real samples. Over the last two weeks we carried out 251 blind tests and were 100% accurate, which validated our platform, and it is now processing real patient samples in the MDU. We have just set up a second platform at Charing Cross hospital Colebrook lab which we hope will be operational from next week.
Have you sought funding for this new work, and if so how easy was it to navigate the relevant channels and systems to get that money where it was needed?
The two platforms were funded by the UK Dementia Research Institute, who over a 24-hour decision-making period awarded us £120K, which was amazing. The connection is that I am also an investigator in the UKDR Care and Research Technology Centre at Imperial led by Dave Sharpe and he kindly dedicated a project manager to the project, Andrew Griffiths, which has kept everything moving forward very quickly.
The beauty of our platform is that it is modular, scaleable and reagent kit agnostic and we have configured on paper a five robot platform that can carry out nearly 4,000 tests a day. We are currently seeking additional funding to reconfigure a third and fourth platform and are in discussions with Public Health England.
How are you communicating details of your work so it can be used elsewhere around the world?
We are posting a paper onto bioRxvi next week which will have full details of the platforms, scripts, and protocols, and we will also be sharing our synthetic virus-like particles (SVLPs) as a standardised tool for validating different testing platforms.
Broadly speaking, how do you feel the life sciences has responded to this crisis?
I think the UK bioscience response has been outstanding, and it showcases the amazing talent that we have in the UK, many of whom are international. In terms of centralised coordination this has not been optimal, probably explained by the time frame and urgency of the emergency.
There is such a wealth of talent, infrastructure and expertise that could be brought to bear on the problem but the government has decided on a centralized Amazon-like solution rather than networking the amazing research institutions and universities into a coordinated testing network.
Having said that more than 40 NHS referral labs are doing an amazing job – but I feel there has been a lost opportunity early on. I'm glad to see this is changing every day as more universities declare their support for testing.
We're looking to hear from RSB members or Fellows who have shifted their research priorities or repurposed laboratories to help fight COVID-19. Contact tom.ireland@rsb.org.uk if you would like to be featured or have any information to contribute to this series.
Professor Freemont FRSB is Head of Structural and Synthetic Biology in the Department of Infectious Disease at Imperial College; co-founder of the Imperial College Centre for Synthetic Biology and co-founder/co-director of the National UK Innovation and Knowledge Centre for Synthetic Biology.