"I don't think the department has ever locked its doors to academics before in 200 years"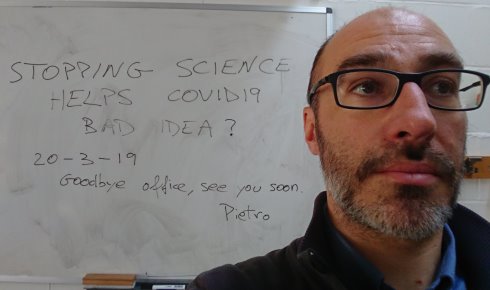 Biophysicist Professor Pietro Cicuta tells Tom Ireland how nearly a thousand Cambridge researchers have joined his Slack channel to develop coronavirus ideas – from ventilator prototypes to an app that diagnoses the disease from the sound of coughing.
What your role was before this whole crisis began?
I was doing my normal job as professor in the physics department and had just finished most of my teaching for the biological physics course. I have a group of about 12 between PhD students and postdocs and I was basically doing research, teaching and admin, a standard academic.
When did you start to shift towards working on COVID?
I was in touch with my friends and family in Italy, so I could see exactly the same was happening here with just a couple of weeks' delay. I had a sense we would be shutting down perhaps before others were prepared to acknowledge we were on the same trajectory.
I realised that COVID-19 would bring challenges, not just on understanding the virus itself, but also more broadly, for physical scientists and engineers – with things like PPE and emergency ventilator technology – and because this thing is transforming society so much it really requires input from a number of fields, including social sciences.
Before the shutdown I set up a Slack channel and emailed colleagues, and very quickly we got 850 researchers. It's worked really well for a bottom up, grassroots place for sharing ideas. Now we have about 20-30 channels for different things from ventilators to volunteering, and other collaborators from around the Cambridge area have joined.
We then interfaced with the more official university channels. When we did finally shut down I was running around with computers to everybody's houses to try and keep my group going virtually.
What projects have you been involved with directly?
I am working on two things. Through Slack, a lot of Cambridge engineers and chemical engineers are trying to respond to the Government's call for ventilators and also to think about open source technology for developing countries. My role so far has just been as coordinator of what we're calling the Open Ventilator System Initiative (OVSI) but it is engineers who have develop a prototype.
Another thing where I have contributed a bit more is the COVID-19 Sounds App.
My colleague Professor Cecilia Mascolo works on the sounds of disease and had recently started this group of postdocs and PhD students, pretty much all lined up to listen to sounds of people with various diseases.
Because this dry cough in COVID-19 is quite distinctive we thought this could work and with a clinician we set up an already-coded smartphone app, which now exists for Android phones and hopefully soon for Apple phones as well. There's already some reprints out there that show that you can diagnose COVID-19 with a cough with some precision.
We're trying to promote this in the media as much as we can to get a very big pool of volunteer-contributed data. We had almost 10,000 volunteers in the week that we've been collecting so far, which is quite good. We're also interested in people who are healthy because that gives us sort of a baseline of healthy sounds.
If it is able to distinguish COVID-19 from other flus that would be terrific. We hope, with our three sounds [coughing breathing and speaking] we might even be able to distinguish the severity of COVID, and be able to inform call centres like 111 whether a person should go to hospital or stay home.
You hear in the media these horrible stories of people who have been encouraged to stay home, but then have died by themselves. If you had something on your phone which could alert you to severity, you could check yourself quite often.
You've given me an idea of how Cambridge has responded generally, and the timescale, but what else have you noticed about how you and your colleagues are working differently owing to this being an emergency situation?
So, broadly, you can see two behaviours. One is the behaviour of people who are focused on transferring home and keeping their normal activity as much as possible, and of course I have colleagues who now have to write an exam or teach and finish a research programme. I'm lucky my course was actually just before the closure so I don't have any more teaching.
There's another bunch of people that I see in this Slack channel who are thinking outside of the box and are trying to apply whatever they know to whatever is relevant. I've never seen the emergence of large groups that managed to self-organise, even with the social distance, and do things so quickly, so that's been very exciting.
At the same time this is an unprecedented crisis. I don't think the physics department has ever locked its doors to academics in its 200-year history – even on Christmas day we're normally still able to go in. I mean not everything is functioning very well. We're four weeks and 90% of the administrative effort is still about shutting down – stopping orders, putting people on furlough.
So, you're dealing with shutting down, and at the same time you have lots of people who are either trying to do the research anyway or trying to do new things, who need new forms of support. It's a very interesting challenge.
Are there likely to be lots of ruined projects do you think, because of that lack of access?
Unfortunately, yes. And we should also say that it's not possible for everybody to have a decent or half decent work environment at home. I mean, obviously having children at home, and some homes are just not quiet places at all.
With PhD projects and postdoc projects, if this kind of closure – which is probably going to be two months or three months – hits in the wrong moment, it has the potential to derail an entire PhD or two-year postdoc.
Some people are able to do more computer-based work, data analysis, some people are writing reviews. But this is not possible for everyone. I had a postdoc just start a month before the shutdown and he's really a bit stuck, because he didn't have data at all.
Moving back to the some of the projects and responses that Cambridge is trying to coordinate, how easy have you found it to apply for funding for these new projects?
As you know there's been various national, international or European levels of emergency funding coming through. I've not had time to apply for any of the big ones and some of them are quite specific and around early detection, vaccines and antibodies.
But the university has emergency COVID response funds and I did put a small grant in there yesterday and so we'll see, that should have a quick turnaround. Apparently, they've received 10 times more applications than the funding they had put aside for this, which is encouraging as it means people are trying to think what they could usefully do.
Finally, could you give me your views on the research community's response overall?
On the one hand, this is very simple – it's a variant of a virus we've seen before, so there's two or three obvious things that biomedical research needs to do: researching the vaccine, research a diagnostic test and research another test so people know if they are immune to it. So, it's not vastly complicated if you focus on the virus itself.
But then also, it's had this once-in-a-century effect on the whole world. Life is not going to be the same after this. This involves everyone, and I don't think we've even begun to disentangle the potential impact of a second wave. I think a lot more coordination is going to be necessary, and refocusing, and people will really need to be creative identifying challenges that didn't exist before.
Pietro Cicuta is Professor of Biological Physics at the Cavendish Laboratory, Cambridge University.
We're looking to hear from RSB members or Fellows who have shifted their research priorities or repurposed laboratories to help fight COVID-19. Contact tom.ireland@rsb.org.uk if you would like to be featured or have any information to contribute to this series.