How to....Talk science on TV or Radio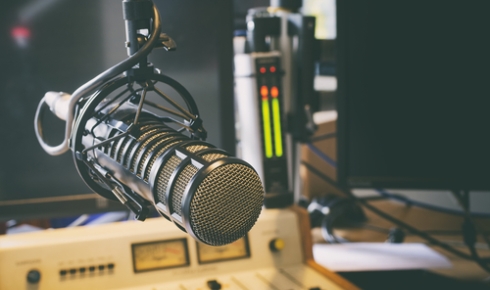 Find out how to get your research discussed on air with Science in Action presenter Professor Adam Hart, and read the Science Media Centre's top tips for commenting on breaking science news
The Biologist 64(3) p30-31
The modern-day pressures – and opportunities – to communicate science to a wider audience can make it seem as though science communication is somehow 'new'. But from the very earliest days of public lectures, there have been opportunities for scientists to engage the public with their research.
Since its inception in the late 1920s, the BBC has played an important role in bridging the divide between scientists and the public. Indeed, the famous words of John Reith – "inform, educate, entertain" – remain part of the BBC's mission statement, but could apply equally to our ambitions for science communication.
The BBC produces the longest-running radio science programme in the world, Science in Action, which has been broadcasting weekly in one guise or another since the 1950s. Going out across the world 52 weeks of the year, the programme covers all the latest science news stories for the lay audience. I've been lucky enough to join the presenting team for my first three-month shift this year, and I talked with seasoned radio science producer Fiona Roberts about what makes a good story and a good contributor.
How do you find the stories you cover?
Science is everywhere. There's often a story in the news with a science angle to help us understand what's going on. Other good places to look are the science journals Nature, Science, PNAS and so on, but we also have a huge contacts list of scientists we've spoken to before.
Often, these scientists will send us news of their latest research. We keep an eye on other journals and press releases that get sent to us. We also work with BBC News and the BBC science correspondents, as well as looking out for upcoming anniversary events and 'big' stories such as space launches.
What makes a good story?
I always ask two questions: why is it interesting, and why is it important for the general global population? We also have to consider whether we have done it before and, if so, whether the story has moved on enough – a step-change for a scientist can be a minor change for the lay audience. Science in Action is half an hour, but that time goes quickly, so we need to fill it with the most interesting and engaging stories.
What do you look for in a contributor?
They have to be able to communicate, of course, but we can help a lot to get the best out of them. The most important thing is to be confident in talking to a lay audience. Avoid jargon at all costs – words and phrases that are commonplace in the lab can be totally alien to most people. We'll do a pre-interview to make sure that the story can come across well and we'll be in contact over the phone and via email to help as much as we can. Contributors mustn't be afraid to ask if they have a question – we know this can be daunting.
Do you give people questions to prepare?
In general we don't, as we are looking for a relaxed conversational piece. However, we will discuss the areas we want to cover – we are not looking to ambush anyone.
Breaking news: Providing expert comment to the media
Commenting live on a story can be daunting. The
Science Media Centre
was set up to help scientists and journalists explain difficult topics to tight deadlines. Here's their tips for staying calm and getting your point across clearly.
•
Ask questions. Make sure you know who your audience are, what the premise of the story is, why they have chosen to interview you, whether you have time to check a couple of details and get your breath or if the interview has to happen that second
.
• Don't use jargon The moment you use unfamiliar words, people will stop listening. Try out your explanations on a few people in advance, preferably those who don't know anything about the subject.
• Use your press officer If your university, funder or company has a press officer, then get in touch with them, and find out what they know about the journalist and the outlet. If it's a controversial or politicised topic then get in touch with us at the Science Media Centre.
• Know what you want to say This is your chance to tell people what you think really matters, so decide what you need to say in advance and then make sure you say it.
• Don't be confrontational Remember you are talking to the people listening, reading or watching at home – it's not about impressing your colleagues, convincing the other people being interviewed or persuading the presenter.
How does the recording process work?
We pre-record – Science in Action doesn't go out live. Typically, the contributor would go to a local studio (a BBC studio perhaps, or a university studio with an ISDN line) and the presenter will interview them from the studio in London. Although we like the conversation to flow, we can re-record and we can stop and start if we need to.
What should contributors think about when they are giving their answers?
We want scientists to tell the very best story they can in an animated and engaging way. We want a factually correct, science-rich story, but we don't have the time to cover all of the background. And we want their enthusiasm to come across!
Examples are hugely important – and, remember, we have a global audience so it is good to think of examples from outside the UK. With science, the devil is in the detail and the detail is so important, but if people can think of a shortcut, they should use it – "this is complicated, but the trend is..."
Also, we know work is funded and collaborative, but we don't have time to list everyone involved. However, we can link to the paper and to whatever websites they might want to include from our web page.
If people think their research would make a good story, what should they do?
Well, we couldn't cope if everyone emailed us, but they can always email the team here. Another route is to contact their press office if they have one and arrange for a press release, but bear in mind that we need stories that are breaking that week.
It is worth remembering that, counter-intuitively, things we can actually see and interact with work well on radio. Field work and lab experiments add a lovely element for the listener and it is a great way to cover a lot of science in a way that really brings it to life. So, if any readers have a story like that, please get in touch.
Adam's TV tips
As well as science journalists, radio and TV producers are always on the look-out for science and scientists to contribute to documentaries and series. Whether you are being asked to comment on your latest paper or provide a more-rounded overview of your field, similar rules apply:
• Be enthusiastic You don't need to wave your arms around and act like you've just downed a jug of coffee, but equally you should try to have a bit of spark when you talk about your subject if you are excited about your field.
• Don't be afraid to ask to do something again – unless you are demonstrating something that cannot be restarted, of course.
• Trust the team No one wants to make you look like an idiot. If they say it was great, then believe them; they know what they are doing.
• Practise beforehand Don't fall into the trap of becoming too scripted, but running through a few answers and ways to explain something can really help things flow better.
• Watch and listen to science television and radio: It will help you to understand what the media are looking for.
• Enjoy it!
You can listen to Science in Action every Thursday at 20:30 GMT on the BBC World Service, via the on-demand service or download it as a podcast.
Professor Adam Hart FRSB is an entomologist at the University of Gloucestershire and broadcaster, and sits on the editorial board of The Biologist.