Making Waves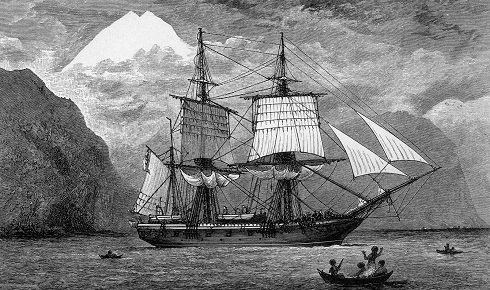 This year marks 200 years since HMS Beagle was launched. Richard Oliver, John Canaris and Angela Hutchings look at the history of this famous vessel and how it made its mark on science
April 2nd 2020
HMS Beagle was a modest ship that had a world-changing impact. Charles Darwin was her most famous passenger, gathering evidence that species change and evolve by natural selection. He also observed that mountains rise from the sea and coral reefs flourish in warm shallows.
Other famous scientists sailed on her: Captain Robert FitzRoy, for example, was a pioneering meteorologist and published the world's first weather forecasts. The ship's most famous destination was the Galápagos Islands in the Pacific, so many people will be surprised to learn that HMS Beagle spent much of her life in the tidal salt marshes of Essex, fighting a losing battle against smugglers and wood rot.
In May this year the people of Paglesham in Rochford, Essex – the Beagle's final resting place – are inviting the world to celebrate* the bicentenary of the launch of the routine wooden ship that ended up having a remarkable impact on the world.
The Cherokee class
HMS Beagle was launched on May 1820 at Woolwich dockyard on the Thames. She was one of more than 100 ships built to the same basic design and it seems unlikely that any special notice was taken of her as she slipped into the water. Indeed, the Navy had no immediate plans for her and she was kept in storage for much of the next five years.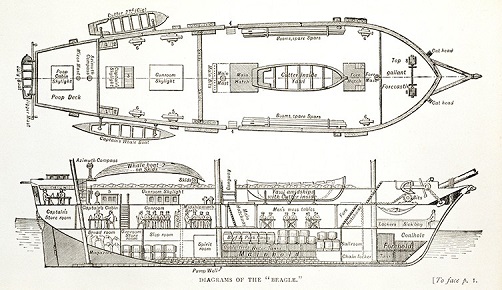 HMS Beagle was a modest Cherokee-class ship but had a world-changing impact
The Beagle was only 90 feet (27.4 metres) from stem to stern, with two masts and an armoury of 10 cannons. Her design was not well liked and these Cherokee-class ships were often described as 'coffin ships' – up to 25 of them were lost at sea. They were wet, slow and rolled excessively. Many passengers, including Darwin, suffered persistent seasickness. Before each of her three voyages, the Beagle was substantially modified and once even given an extra mast to try to rectify some of her sailing problems.
Eventually, it was decided that the Beagle's role would be to help create detailed charts of South America and northern Australia. Before the Panama Canal was opened in 1914, travel between the Atlantic and Pacific was extremely slow and hazardous, particularly when passing east to west under sail. Countries in South America were fast developing as exporters of agricultural products and of guano, a key ingredient in gunpowder, and the UK wanted to secure the trade routes. There were also high hopes that the north coast of Australia might have safe harbours from which to develop settlements.
The first voyage
On 22nd May 1826 HMS Beagle set out from Plymouth to explore and chart South America, from Rio de Janeiro in the South Atlantic to Chiloé in the Pacific. On board were Commander Pringle Stokes, 11 officers, 10 marines and 40 seamen. HMS Beagle was accompanied by HMS Adventure. The voyage was not a great success. The Beagle struggled through the Strait of Magellan at the bottom of the Americas, but was forced back by storms and exhaustion to Montevideo, Uruguay, in April 1827. They set sail south again in December and stayed in Port Famine, Chile, for the winter. Scurvy was appearing among the crew, but nonetheless she was sent west into the Pacific. This voyage proved too much for Stokes. He locked himself in his cabin for a month and then took his own life.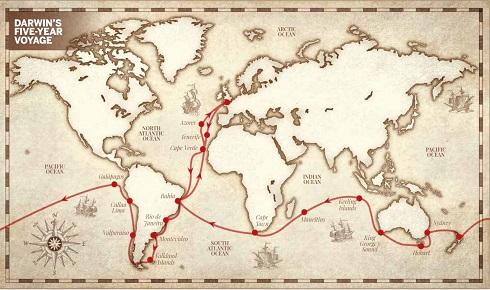 The Beagle set sail on three epic journeys, including the five-year voyage with Charles Darwin aboard (above), before being used as a stationary deterrent against smugglers, off the Essex coast.
Lieutenant William Skyring took over as captain, and sailed again back to Montevideo before 23-year-old Captain FitzRoy took the ship south again in 1829 to complete the unfinished orders of Stokes. They explored more of the Tierra del Fuego area, an archipelago at South America's southernmost tip, over the next 18 months, before returning to Plymouth in October 1830. Returning on board were four natives from Tierra del Fuego, named Fuegia Basket, Boat Memory, Jemmy Button and York Minster. FitzRoy, a committed Christian, embarked on an experiment to "civilise" the four in the UK and then take them back to their native homes, in the confident wish that they would transfer their new knowledge and beliefs to the other Fuegians on their return.
Darwin's voyage
The second voyage of the Beagle stands pre-eminent in the annals of science. The primary goal was again to chart the coast of South America. FitzRoy was by this time aware of the stresses of command and was determined that he would take along a gentleman companion. Darwin was not his first choice, and Darwin's father was not keen, but the founding figure of modern biology set sail with the founder of meteorology from Plymouth on 27th December 1831.
Over the next 57 months, the Beagle completed a westward circumnavigation. After three and a half years charting South America, the crew visited the Galápagos Islands, Tahiti, New Zealand, Australia, the Keeling (Cocos) Islands and Mauritius. Darwin spent as much time as he could ashore, travelling through forests, across Pampas and high into the mountains. His observations of fossils, shells and wildlife would form the evidence base of his famous theory, although this wasn't to be published for another 30 years.
Historians have not been able to define a eureka moment when Darwin formulated the concept of natural selection. His collecting and thinking continued for decades, and involved dozens of collaborators and hundreds of correspondents, including Alfred Russel Wallace.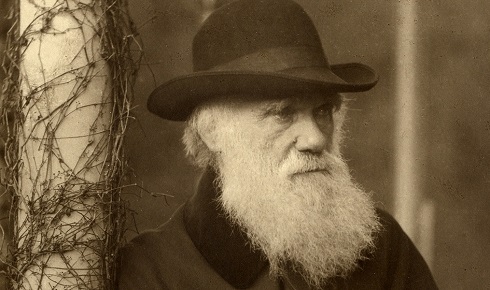 The Beagle's most famous shipmate, Charles Darwin.
Much has been written and debated about Darwin's observations of fossil mammals, Megatherium, mockingbirds, iguana, tortoises, finches, sea-level changes and coral reefs that featured in his major books. However, he made less well-known but perceptive observations on many other aspects of biology. He studied the fungal disease rust growing on wheat being cultivated in Brazil and collected potatoes that, 20 years later, were used in an attempt to combat the devastating Irish potato famine. This was 50 years before the germ theory of disease, formulated by Pasteur and Koch, was accepted.

FitzRoy and Darwin agonised about the three surviving Fuegians (Boat Memory had died of smallpox shortly after the Beagle's return to Plymouth). They were eventually taken home and quickly returned to their previous lifestyles. We can only speculate how this challenged the assumptions of Victorian Britons. Darwin's voyage on HMS Beagle was only one of thousands of voyages of discovery by the European powers during the age of exploration, but there can be no doubt that it stands alone in terms of how much it changed our understanding of life on Earth.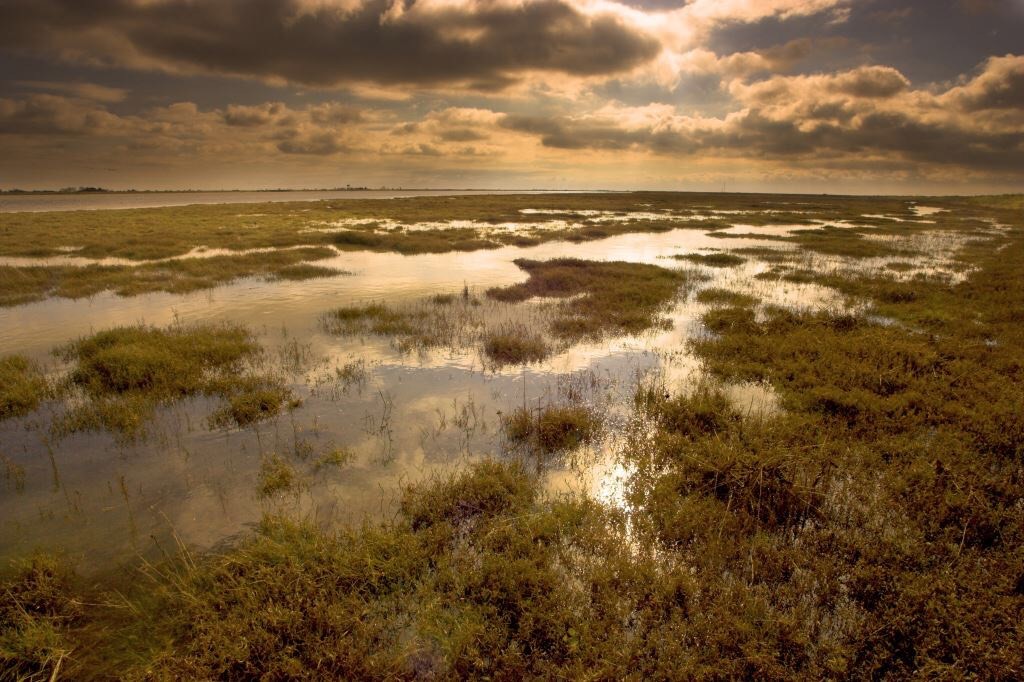 Wallasea Island, in Essex, where an observation platform will be placed overlooking the River Roach where HMS Beagle was moored.
The third voyage of the Beagle (1837–1843) cannot compete with the second, but was nonetheless a courageous journey of discovery. This time the goal was to chart the north and west coasts of Australia. The new skipper was John Clements Wickham and the crew also included John Lort Stokes, the only person to sail on all three voyages. They set out from Perth in Western Australia to the north in November 1837, sailing all around Australia and back to the northern coasts for the next five years. The north coast was almost devoid of colonial habitation, but was seen as a key link from Melbourne and Sydney in the south to Southeast Asia and India to the north. The Beagle made repeated visits to Port Essington, which was then touted as the future capital of the region, but would eventually be abandoned. In passing, Wickham noted an attractive bay and named it Darwin in honour of their still relatively unknown former companion.
There was also much first contact with native inhabitants. Their diary entries make it clear that the crew had a great deal of respect for the survival skills and culture of the people they met. During one of numerous encounters at Victoria River, Stokes was awestruck by the sudden appearance of a group of aboriginals: "It is to be regretted that our position would not allow us to seek the acquaintance of these people. I could not help comparing the bold, fearless manner in which they came towards us – their fine manly bearing, head erect … I now beheld man in his wild state; and, reader, rest assured there is nothing can equal such a sight…"
The crew had much to learn about the culture of the inhabitants and the hazards of the wildlife. Stokes was speared when he unwittingly crossed into forbidden territory and only just survived a crocodile attack. He was treated by Mr Benjamin Bynoe, the surgeon on board who was also acting as the naturalist. He is credited with collecting a species of tobacco, Nicotiana benthamiana, which has emerged as a key experimental tool in plant virus research.
Final adventure
The Beagle reached home on 30th September 1843 and would never again leave British waters. Two years later she sailed for the last time to begin a new life as a floating deterrent to smugglers as part of the civilian coastguard service. She was sailed to the River Roach at Paglesham, where she was stripped of her upper masts and spars because she was not expected to be moved again. In 1859 the Navy took over the operation of the coastguard, and on 25th May 1863, all watch vessels were given numbers. HMS Beagle became WV7.
In 1870, the Beagle was taken back by the Admiralty and advertised for sale by auction. Records show that on 13th May 1870, WV7 was sold to Murray & Trainer for the sum of £525 to be broken up where she lay, in Paglesham. Local folklore identifies many timbers in buildings in and around the area alleged to be from the Beagle, although there is no empirical evidence to substantiate that. Some Victorian artefacts have been found by residents and, in particular, an iron anchor. It is also clear that the crew serving on her intermingled with the local population. Some of the women married into the local community while the men tended to move from port to port.
May 2020 is the 200th anniversary of HMS Beagle. Rochford District Council, HMS Beagle Trust and a host of scientific, social and maritime organisations are gathering to celebrate the launch of this most famous vessel.*
Richard P Oliver is a trustee of the HMS Beagle Trust. John Canaris is a geologist and managing director of Tracker Geoservices Pty Ltd. Angela Hutchings is strategic director of Rochford District Council.