On record: Autumnal ivy bees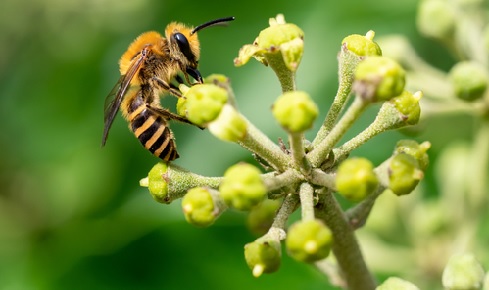 James McCulloch's latest column on under-recorded species to look out for at this time of year
As autumn approaches you could be forgiven for thinking that this is the time when all insect life starts to wind down. However, the flight seasons of some specialist species are only just beginning
September 8th 2021
As the work of many entomologists also begins to wind down, these autumn emergers suffer from under-recording, even though they can offer vital clues to the effects of climate change on species' distributions. One such example is the ivy bee (Colletes hederae). Flowering ivy provides an essential source of pollen and nectar during the autumn months, with even non-specialists such as the honey bee (Apis mellifera) taking up to 90% of their pollen from ivy at this time of year. But ivy bees have tailored their flight season to perfectly coincide with the peak of ivy blooming in September and October.
Along with all other invertebrates, ivy bees rely on external heat to raise their body temperature to the threshold required for flight and other activity. Autumn in the UK is not known for warm weather, but as the climate heats up this appears to increasingly be less of a barrier to the northward expansion of this species. Soon after the bee was first recorded in the UK in 2001, surveys initially found the species to be moderately frequent in coastal Dorset and some other sites in south west England, but nowhere else. The latest National Biodiversity Network map shows records from across the UK up to the northernmost extent of Cumbria, and the species seems poised to cross the border into Scotland in the very near future.
The best way of finding and recording ivy bees is by searching autumnal ivy blossom, where ivy bees can be abundant and easy to spot once you know what to look for. Their thorax is covered in a thick coat of ginger hairs and the abdomen is black, with sharply delineated buff transverse stripes (in contrast, the honey bee thorax has a duller coat, and the abdomen is orange with dark stripes).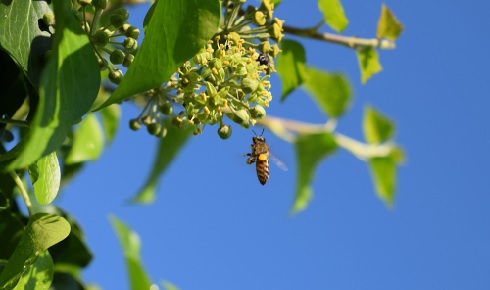 The ivy bee (Colletes hederae) can be identified by the ginger coat on its thorax and sharply defined stripes
Spot the ball
The behaviour of ivy bees away from the blossom can also make them noticeable, as the females often attract the attention of more males than they can handle, forming striking mating balls with the female in the centre and a dozen writhing males in a layer around her.
If you are lucky enough to experience the buzzing spectacle of hundreds of ivy bees busily nectaring on an ivy bush, the Bees, Wasps and Ants Recording Scheme (BWARS) has developed a specialist mapping project to collate records of this rapidly spreading species. You can report your sightings here.
James McCulloch is an entomologist and the winner of the inaugural Gilbert White Youth Award for terrestrial and freshwater recording.