Interview: Stephen Metcalfe MP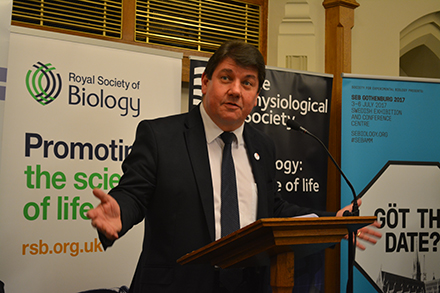 Tom Ireland talks to the Essex MP, who was appointed chair of the Science and Technology Select Committee in October

The Biologist 64(1) 28-31
In October last year, Stephen Metcalfe MP was elected as chair of the House of Commons Science and Technology Select Committee. Metcalfe may be new to the role, but he's a familiar face in the science community, having joined the committee in 2010, when he first arrived in parliament as MP for South Basildon and East Thurrock.
He's wearing an 'I love evidence' badge when we meet in the busy atrium of Portcullis House, the overspill building of the Palace of Westminster. This morning, he has been on the floor of the House of Commons asking the Government questions about the impact of Brexit on the science community. He's here to explain to me what the select committee does, how it works and what he thinks of the Government's record on science.
What does the Science and Technology Select Committee do?
Its primary role is to scrutinise the Government, look at Government policy, and ask the Government to justify the position it is taking on any given subject. With science, we can crosscut and contact most departments, looking at all aspects of government policy and seeing if the word 'science' is in there.
The committee's other role is to point the Government in particular directions that it should be looking at closely. The third role – and one that has been overlooked recently – is to act as a bridge between the science community and parliament.
We do this work through inquiries – we put out a statement and call for evidence, normally written evidence. This is inspected by clerks, and then we call in witnesses and question them. Based on that evidence, we will write a report and submit that to the Government. They have an obligation to respond in 60 days; they don't have to agree with us, but they must respond and we can challenge the response. So we have a formal role within the House structure to hold the Government to account.
How do you decide what to investigate?
Some things are obvious – for example, the Government has just announced a new industrial strategy with science at the heart of it, so we will launch an inquiry into that. Then there are things like our recent report on ocean acidification, which is an area we think the Government should take more notice of – that was something brought forward by a member of the committee.
The third strand is something we have just launched called #MyScienceInquiry. We are asking people to submit 200 words or a one-minute video telling us what we should be looking at. We hope this reaches out to corners of the science community we wouldn't normally reach, and if it works we hope to repeat it on an annual basis.
What do you think the committee may look into in 2017?
Brexit is obviously going to colour a lot of what we do because of its huge impact. And its opportunities, of course – it's not going to be all bad. What I'm keen to re-examine is the skills gap. I don't think we've made a huge amount of progress and the time for talk is over – the time for action is beginning. We're going to look at best practice and look at ways to scale that up.
That includes the gender gap as well, as we're not doing enough to equalise the number of women taking STEM subjects up to their ultimate destination, getting real equality and balance.
When do you think the committee has really worked well or shown its worth?
I think the report we've done on robotics and artificial intelligence (AI) is quite influential. It came off the back of the Government making this one of its 'eight great technologies', yet it really couldn't tell us why. Our report uncovered some interesting issues and is helping to direct the discussion around buzzwords such as AI and the 'Fourth Industrial Revolution' – for example, the creation of a standing committee to look at some of the ethical and social issues that this technology will undoubtedly bring.
Our report on Brexit is also a useful bringing together of all the concerns of the community and can be used as a starting point to find solutions. 'Bridging the Valley of Death' is a report I think had a strong impact on Government in that it recognised it wasn't doing enough to commercialise the research we do in the UK.
We must, of course, talk about Brexit. Has the Government done enough to address the big concerns that the scientific community has raised since the referendum?
Yes and no. One of the criticisms we made of the Government was its communication strategy. We were not convinced that everyone across the whole community was getting the same message. We were hearing people had not heard that grants and funding would be protected up until 2019/2020. It's quite obvious that the Government's message isn't getting out there, and it needs to improve on that.
I think the recent announcement of £2bn science funding by 2020 must be welcomed. That is a step towards 3% of GDP going into science, which we called for in the report. Assuming it is all new money, it should cover the £800m we get from the EU. And it's not going to have to be a binary decision where we can't get both.
Where the Government hasn't provided assurance yet is around people. We called for EU researchers and students to have reassurance that their status would be protected. Every time I challenge the Government on the floor of the House, as I have done today, the warm words we get back are about wanting to be the go-to place for research, the destination where people should want to come and do research. The message is very warm and reassuring, but there is no hard evidence yet.
You campaigned to leave the EU. What do you say to a scientific community that, according to polling by Nature, overwhelmingly wanted to remain in Europe and is now concerned about the issues you've just mentioned?
I completely understand why so many scientists voted to remain. What I would say is that the referendum wasn't about science. The reason I decided to campaign to leave the EU was that I think as a political entity it is not serving people well. It is unaccountable, it is undemocratic, it is unresponsive, and it is papering over some very serious cracks. In 2014, roughly one in seven people across Europe voted for parties at the political extremes and the EU made no attempt to address those concerns. My decision to campaign to leave was about kick-starting proper examination of the direction in which it is heading.
In my view, it's not about science or immigration, although I see that it is for some of my constituents. What we want is a sensible system that serves the people of the UK, the scientific community and the people that come here, fairly. I don't think that existed.
You said earlier "it's not going to be all bad" for scientists. What opportunities might Brexit provide?
There will be opportunities to create our own trade deals, independently of 27 other countries. There are opportunities to reform our own regulatory framework to make the UK a destination for life science research and clinical trials. And I suppose there are opportunities in recognising that there is a whole world out there, not just the 500 million citizens of the EU. The problem is the vote was a binary choice, where I think in reality there are myriad reasons and possibilities.
Science shouldn't take it personally – I will champion the fact that we need free movement of scientists, we need face-to-face collaboration and we want to be the go-to place to do research.
What attracted you to the Science and Technology Select Committee, and how are you finding the role of chair?
I'm loving it. I feel a renewed sense of purpose. My reason for getting involved in the committee six years ago was that I realised I wasn't going to get the daily sense of achievement I got from my previous work – creating a quality product in the printing business – so I decided to join this committee. It's been fantastic, and to become chair has been the icing on the cake.
I'm interested in the role of science and society – the fact that it has the ability to solve some of the huge challenges we face as a species, as a planet. That's interested me from a young age.
My first experience of science was at a school assembly where a man had a five-gallon metal can over a candle, was chatting away, then he put the lid on, took it off the candle and it suddenly collapsed in on itself as the pressure inside dropped. It's a really basic principle, but to a seven- or eight-year-old, it was like evidence-based magic. It really left a mark on me.
The parliamentary data website TheyWorkForYou.com summarises your voting record as 'generally votes against measures to mitigate against climate change'...
That is not the case. I'm 100% behind the understanding and belief in climate change. There is not a scintilla of me that does not believe that climate change is exacerbated by man-made CO2 and we need to do all we can to reduce that.
A lot of people use that website to find out about MPs' beliefs and their voting records. Is it wrong?
Well, it's not using very good metrics. Say, for example, the opposition says the Government has a terrible record on climate change and should be doing more, and the Government says: "No, this is what we're doing", and I vote with the Government – then I suppose it will probably say I have voted against climate change measures. It is not the best way to get someone's opinion. That's a complete misrepresentation of my view.
OK – that will reassure people who looked you up when you were elected as chair of the Science and Technology Select Committee! It does, however, raise an important issue about how members of this particular committee, which deals in matters of science and evidence, are chosen. How are members selected, and are they given training to help analyse and understand the evidence that the committee receives?
Chairs are elected by the whole House, and members by their own parties. Members put themselves forward for election, they put a manifesto through and ask their colleagues to support them, and obviously answer any questions people have about why they are suitable.
In terms of training, it is an important part of the select committee, and I'm hoping we will undertake some investigations into the best way to handle evidence. What I'm also hoping is that as part of MyScienceInquiry, we might get challenged to look at how the Government looks at evidence.
The committee recently investigated the Government's progress on tackling antimicrobial resistance – a monumentally important issue. What did you find?
I remember very clearly the day Dame Sally Davis [the Government's chief medical officer] came in and said: "Forget climate change, I'm worried about dying on the operating theatre during a routine operation." Has enough progress been made? I think the UK Government knows what the problem is, but this is a global issue and so we have to recognise that. While we have a leadership role, we are not able to solve it on our own.
We must work hard with countries where you can buy these things over the counter – we've got good progress here, with post-dated prescriptions and GPs having useful conversations with people, but we're only 1% of the world's population. On issues where you need almost the whole species to change behaviour, our role is leadership – help them take ownership of the problem.
Things like changing the business model around development of antibiotics is also vital, because what we want to do is pay not to use, keeping any new classes in reserve for when we really need them, not just pumping them out. We are going to be pushing for more clarity about when we will see some of these new models being tested.
The committee also recently reported on the establishment of a new research funding body, UK Research and Innovation (UKRI). What are the risks of these reforms and how confident are you that they will be successful?
Any change can have risk associated with it, as it is a change from what is established and working. We know what the challenges are: protecting the dual funding system, making sure there's a balance of funding between basic blue sky research and the 'innovation' aspect of UKRI, and that one doesn't have draw on the other.
There are huge opportunities, though. With so much research being cross-discipline, bringing the seven research councils together... I was listening to Dame Ann Dowling [president of the Royal Academy of Engineering] giving evidence yesterday, saying it shouldn't matter which of the doors you arrive at, someone within the organisation will make sure your idea or your area of research isn't dropped. Instead of someone saying: "that's not for us", we can get some really innovative research going on across disciplines.
I'm always positive about these things and John Kingman [UKRI chair] strikes me as very much the right person: he has been sending out reassuring messages that people have warmed to. Get this right and it will be a positive step that will protect the UK's position as a science superpower.
When evidence is given to an inquiry, there is a danger that it will be trashed or discredited if the Government wants to go in another direction, thereby damaging the scientist or organisation that presented it. What can be done to make it less daunting for scientists who think their work could help inform political decisions, especially high-profile ones?
I agree. I think Government ministers should analyse the evidence and, unless it is flawed, say: "Yes, we accept this evidence: we think it is a valuable contribution. However, for these reasons, we are deciding to take an alternative view." The new prime minister completely gets that, because in her letter on the reclassification of drugs, she didn't dismiss the evidence.
She said she accepted it, but that "for political reasons [I] am going to do something completely different". And that's been a rarity in the past. Politics isn't just about evidence, it is balancing myriad different demands, but that doesn't mean the evidence should not be respected.
What would you say to anyone who thinks there are not enough scientific voices or opinions heard in parliament?
I am very keen on being very open to approaches from anyone in the science community who feels they are not being heard. They should feel free to pick up the phone or email the committee expressing their concerns. That doesn't mean we can open every door and get that in front of the prime minister, but it does mean there is an ear here in parliament.
Stephen Metcalfe began his political career as a district councillor for Epping Forest. He joined the House of Commons Science and Technology Select Committee in 2010. He stepped down in 2015/16 and then was elected as chair in 2016. He is the MP for South Basildon and East Thurrock.
Recent inquiries by the Select Committee
Antimicrobial resistance follow-up
Graphene
Digital skills
Science communication
Closing the STEM skills gap
Genomics and genome-editing
MyScienceInquiry
Research integrity
Ocean acidification
Role and priorities of UKRI interim chair
Science in emergencies: chemical, biological, radiological or nuclear incidents
Robotics and artificial intelligence
Regenerative medicine
Managing intellectual property and technology transfer
Leaving the EU: implications and opportunities for science and research
For more information visit the Science and Technology Select Committee homepage