Lost in translation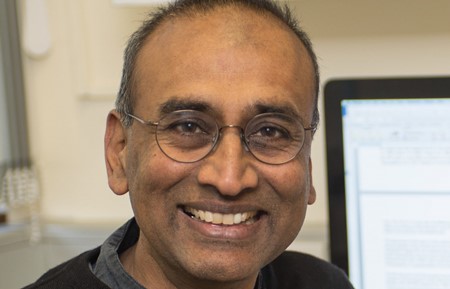 Nobel Prize-winning biochemist and president of the Royal Society Sir Venki Ramakrishnan talks Brexit, the wonders of the ribosome and why he left physics for biology
The Biologist 63(6) 20-23
When Venkatraman 'Venki' Ramakrishnan was elected president of the Royal Society last year, few seriously thought the UK might soon vote to leave the European Union. Now, with talk of limits on the number of foreign nationals working or studying in the UK, this Indian-American-British Nobel Prize winner seems an incredibly pertinent choice as the head of an organisation that must ensure UK science remains world-beating through such turbulent times.
Having grown up in India, Venki moved to Ohio to study physics, but after completing his PhD he became attracted by the big biological breakthroughs of the 1970s. He left physics research and learned biology from scratch in California, before taking research positions at Yale, Oak Ridge National Laboratory and the University of Utah.
In 1999, his fascination with the ribosome – the extraordinary molecular machine that translates genetic code into peptides and proteins – brought him to the UK, and Cambridge's famous Laboratory of Molecular Biology (LMB).
A decade later, in 2009, Venki was awarded the Nobel Prize in Chemistry for helping determine the complete atomic structure of the small subunit of the ribosome. The breakthrough helped us better understand one of the cell's most incredible components and how common antibiotics attack bacterial ribosomes.
Want to continue reading this article?
Click to login.