Meet the Presidents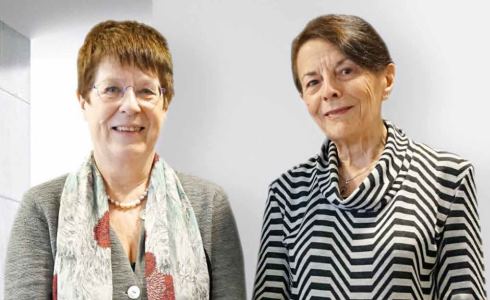 In May, Dame Julia Goodfellow will become the third president of the RSB, taking over from Dame Jean Thomas, who has been president since 2014. Tom Ireland caught up with the two distinguished scientists to discuss bioscience, Brexit and the Society's work
The Biologist 65(2) p22-25
Dame Julia, perhaps you could tell the readers of The Biologist a bit about yourself?
JG: I've just retired as vice-chancellor at the University of Kent. Prior to that, I was chief executive of the BBSRC and before that I worked at Birkbeck College in London. I was also president of Universities UK from 2015 until last year.
You originally studied physics. What brought you over to biology?
JG: The year I graduated – a long time ago in the 1970s – there were just no jobs in physics. Quite a lot of people I knew through my husband [geneticist Peter Goodfellow] were studying biology and there was such a difference between the way the subjects were taught. In physics, you were lucky if you got on to 20th century physics by the third year. The biochemistry students were reading papers in Nature as third-year undergraduates. It just seemed that the future was biology, built on the groundwork that had been done in physics and chemistry, mathematics and, later, computer science. I was very lucky to be able to use my background in physics and also my knowledge of biology to study how molecules behave.
How interesting that you have both focused on macromolecules. Dame Jean, you didn't study biology either. What was it that drew you to this area?
JT: I used to be a chemist and I was perfectly happy doing my PhD in organic chemistry, but during this time I had become aware of what was going on in the new field of molecular biology. It was less than a decade since the award of the Nobel Prizes to Sanger (his first), Watson and Crick, and Kendrew and Perutz. I could see that this was chemistry, and physics, applied to very big molecules – the molecules of life – and I was hooked.
I was working with 14-membered rings, which I thought were fairly big – but they were nothing compared with these wonderfully complex biological molecules. I discovered that the scientists who had done this amazing work were all in one place, the Laboratory of Molecular Biology in Cambridge. That was the only place I wanted to work and, having secured a Beit Memorial Fellowship, I arrived there within days of having my PhD viva. I joined the laboratory of [the late] Ieuan Harris and became a protein chemist overnight.
Has your work overlapped much?
JT: Well, we've known each other for years. We were both involved in the Research Council's Molecular Recognition Initiative in the 1980s and 1990s.
JG: That's right – we were in competition, weren't we? And when I was at BBSRC, Jean was part of a very successful laboratory at Cambridge, which received a lot of money from us. The successful research councils have to work with their communities.
JT: We used to go to some of the same Molecular Recognition meetings. I remember meeting Julia, and Janet Thornton, both then at Birkbeck, and neither was a biologist and I was a chemist. I used to think "there aren't many biologists doing this biomolecular recognition stuff, are there?"
JG: I think with the Molecular Recognition Initiative, it was the first time the community got a very large amount of money to do bioscience research. It was the beginning of it becoming 'big science'.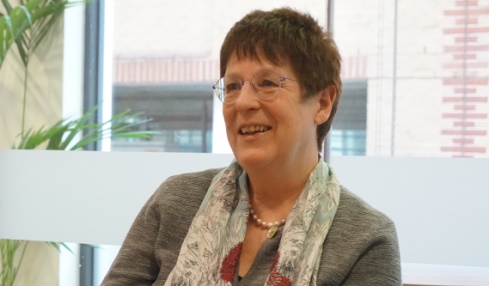 Dame Julia Goodfellow, who becomes RSB president in May.
Jean, what were the main challenges facing the Society when you started as president?
JT: The Society was only five years old then, which still felt quite young. It was off the ground, but looking back I don't think it had really settled. Now it is a year off being 10 years old, and is well established and more confident.
One of the challenges was to show that the Society really worked and could do what it said it was going to do: be a single unified voice for biology. It's not a straightforward thing to do. Mark Downs and his team, with the support of Council, have found ways of doing this, thanks to lots of personal effort on Mark's part in his interactions with our Member Organisations.
Brexit (and then the general election!) came out of nowhere, and generated a great deal of activity in terms of identifying and communicating the community's needs post-Brexit. Aside from that, though, we have been building on everything we had wanted to do: doing more on policy and degree accreditation, increasing the amount of training, supporting the biology competitions and so on.
And there are things that have been set up and are ready to expand now, such as the online training portal, so I think overall things are in good shape. Without a significant publishing operation, we will always need to work out ways to increase our income, but the chief executive runs a tight ship and I think we are doing more with what we have.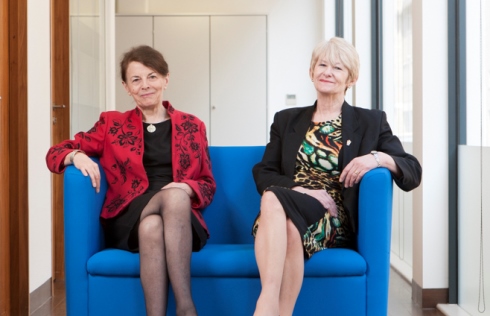 Dame Jean Thomas (left) and her predecessor Dame Nancy Rothwell, the RSB's first president.
Julia, have you had a chance to think about your aims during your term as president?
JG: It's early days and I'm somebody who really wants to understand what's going on before jumping in at the deep end saying one's going to do this and that. I do just want to say what amazing work was done by Nancy Rothwell in setting up the Society and Jean in making it work as an organisation. We celebrate 10 years as an organisation next year, which is exciting for me and there's a lot to celebrate. The RSB has done a fantastic job for the sector.
When I look at what's going on at the moment, there is so much change and it's not just Brexit. There's enormous change in the university sector, where a lot of the research is done, and enormous change for industry and industry collaborators. If you think of early-career researchers – you know, it's actually quite scary for them. For early-career staff trying to start their careers, trying to do teaching and all the other things they do while trying to make a mark in research, it's an incredibly difficult time in their lives. So certainly I think training at all levels and supporting the membership through this period are important. And in terms of making the case for science to government, you can never do it enough.
We've touched briefly on how Brexit came out of the blue for the science community. What should the Society be doing in response?
JG: I do think understanding what the changes mean and supporting people through those changes are crucial. I was at Universities UK during the referendum and we had an incredibly supportive minister in Jo Johnson. He spoke to the vice-chancellors the morning after the referendum, had already got the Student Loans Company working on the European students and within a week or two had gone to Brussels. So having those links to ministers is vital in getting the partnerships with our European colleagues to continue.
European collaborations are important scientifically too – for example, where you have medical studies that need a lot of patients in certain areas, or big teams. We don't want politics of this decision to affect the fantastic science that some of those networks are doing.
JT: I agree with Julia that in making the case for science to government, you can never say it often enough. Through our wonderful and hard-working policy unit, which collects and collates the views of our Member Organisations, the Society has already responded to six consultations in 2018, following about a dozen in 2017. Communication between the different bits of government is perhaps inevitably not all it should be, so we keep on having to make our case to make sure it is heard and taken on board.
Do you get a sense that senior figures in the sector are thinking about the implications of more political upheaval in the UK – for example, another election? Or do people have enough on their plate working through the implications of Brexit?
JG: In the 30 years that I've been taking notice of research policy, there has been relatively little difference in approach to science irrespective of the flavour of government – they have all understood the importance of research and innovation to the UK and our position in the world.
I remember sitting at a dinner with Lord [David] Sainsbury [former science minister under Labour] and David Willetts [former Conservative science minister] on either side of me – and they agreed! They both saw the importance of science and there were not major policy differences about science. We do see some difference coming in the way higher education is funded, but that's a slightly different issue.
JT: Yes, I think that's right. Both the Davids were very supportive of science. We always want more money, but science is in a relatively good position now. Governments recognise that science, not least bioscience, is an important contributor to the economy. The percentage of GDP spent on science hasn't gone up much, but it has gone up a little and is due to go up a bit more.
JG: One of the good things about the new UK Research and Innovation [UKRI] is that it has got promises of upping that – it has got the money coming in really before UKRI even exists. We haven't mentioned the Industrial Strategy, which is something this government is rightly worried about, and some of the pillars of that are around training and skills in science. Getting highly skilled people to work and study here is another big issue that I'm sure the Society will be working towards. UKRI is well aware of that, too, and we also have a new chief scientific adviser coming in, Patrick Vallance, and you'd expect him to be working on some of these issues and the trade deals around Brexit.
JT: Patrick's experience, insights and energy should make him ideal for that role.
Julia, until recently you were president of Universities UK. What issues in higher education are likely to be relevant to the RSB's work?
JG: There is a lot of uncertainty and people feel very pressured. You are asked to do well in the REF and then there is always the next one down the line. Teaching has always been important, but now it's been formalised through the TEF – again, more pressure on staff. I think around 15% of our academic staff are from Europe and 18% are from the rest of the world. So up to 40% of the faculty in many universities are not British. It's about making sure those people have certainty over their future.
Some universities have made changes to their pension schemes, and also seeing headlines all the time bashing universities is really off-putting for people who are working hard and know issues such as freedom of speech are not handled in the way they are always portrayed in the press.
Jean, you recently became chancellor of Swansea University. All this awaits you...
JT: Yes, I've been getting stuck in already, but being chancellor is of course very different from being an executive vice-chancellor like Julia. Swansea University is my alma mater, and I'm glad to be able to give something back. The university is on the up and has ambitious and exciting plans going forward.
A week after I was appointed, I did my first degree ceremonies, shaking hands and exchanging a few words with every student, one or two of whom elected to speak in Welsh, so I'm having to brush up on that pretty quickly!
Is there anything you would like to pass on to Julia?
JT: Julia will be great as president. She has absolutely tons of relevant experience, and I know she will provide leadership to the Council, keep supporting the things we do well and support the staff who are on the front line. The 10th anniversary in 2019 will provide a good opportunity to try to secure additional funding for the Society and celebrate what we do. I'm slightly sorry I won't be at the helm then, but I will be keeping a watchful eye.
Professor Dame Jean Thomas Hon FRSB is the newly appointed chancellor of Swansea University and has been president of the RSB since 2014. She is professor emeritus of macromolecular biochemistry at the University of Cambridge and was the first female master of St Catharine's College, Cambridge. Her research is focused on chromatin. She was awarded a CBE in 1993 for services to science and a DBE in 2005 for services to biochemistry.
Professor Dame Julia Goodfellow CBiol FRSB is a former vice-chancellor of the University of Kent. She has also served as chair of the British Science Association and president of Universities UK. As chief executive of the BBSRC, she was the first woman to lead a UK research council. As professor of biomolecular science at Birkbeck College, her research focused on the study of macromolecular structures. Dame Julia was awarded a CBE in 2001 and a DBE in 2010 for services to science. She becomes the RSB's third president in May.