Awards ceremony recognises young scientists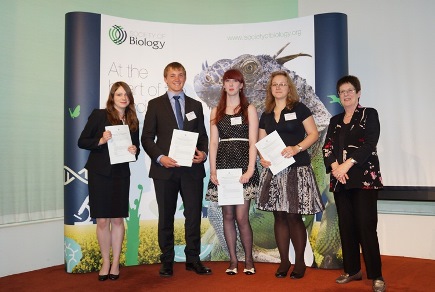 The achievements of over 130 students were recognised with medals and certificates in the British Biology Olympiad (BBO) and the Biology Challenge competition awards at the Royal Society, London, in June.
The four winners of the BBO (pictured above), an annual competition for post-16 students, will go forward to represent the UK at the International Biology Olympiad in Switzerland. They are Scarlett Harris (Godalming Sixth Form College), Matthew Johnston (The Judd School), Katherine Lister (Greenhead College) and Anna Sozanska (St Leonards-Mayfield School).
Over 4,200 British teenagers entered the BBO with the top 16 going forward to the British final. This comprised a challenging three days at the University of Reading where they took a theory paper and practical exams in botany, cell biology, biochemistry and zoology.
The Biology Challenge was developed as a junior version of the BBO and a record 31,000 students took part this year collectively answering 3 million questions.
Both competitions are organised by UK Biology Competitions (UKBC), a Special Interest Group of the Society of Biology.