Feel like an imposter at the lectern? You're not alone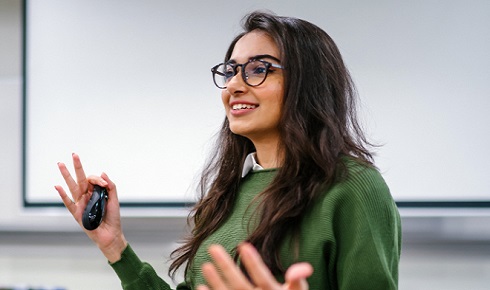 The first of a series of columns on life as an early career lecturer looks at 'imposter syndrome' – and how support from others in a similar position can help
February 7th 2020
It's 6am and my alarm goes off - not that I need it. I've been awake since 4am worrying about giving my first ever lecture. I have done some practical demonstrating and seminars as a PhD student and post-doctoral researcher, but this feels like such a big jump. Will everyone realise that I'm an imposter?
Lecturing is my dream job, and I was so excited that I had 'made it'. But for months I panicked that I'm not good enough, that everyone else knows what they're doing. And I thought I was the only one that felt this way. I worried that the students would realise I didn't have the same amount of experience as the rest of the lecturing team. I wondered: Am I really the right person to be teaching the next generation of research leaders and industry professionals?
Once settled into the routine of giving lectures, practicals, tutoring and marking, these doubts lessened. However, as many of us early career lecturers do, I still experience a low-level, background imposter syndrome.
"What if the students know more about this than me?"… "Why is my marking taking so much longer than everyone else?"…"I must work harder and longer to be as good as my peers..."
You may have experienced one, some or all these feelings when you started your lecturing career, or be right in the midst of these feelings now. Let us reassure you, you are not the only one.
It's an odd career leap, from researcher to full-time lecturer. Not many career paths have such a significant change in role. Of course universities are aware of this and they are trying to support you, but who amongst us started our first lectureship feeling like we were in control? Talking to my peers helped me realise it's not just me, that I'm not the weak link.
It's an understanding of these stresses and challenges that led the Heads of University Biosciences (HUBS), supported by the RSB, to establish The Early Career Lecturers in Bioscience team (ECLBio). Our purpose is to explore and communicate issues faced by bioscience lecturers to HUBS, and to support lecturers, either directly or through feeding back to HUBS member institutes.
Our subject areas and roles may differ, but the issues we face are often the same. The ECLBio will highlight and speak out about the key issues facing early career lecturers and facilitate a network for you to discuss and debate these issues. We aim to provide targeted events to support you through the early stages of your lecturing career, including support for post-docs to transition to lecturer. We want to help you develop subject-specific and pedagogical knowledge, as well as find collaborators and apply for research grants.
We aim to write a series of articles in The Biologist this year highlighting the different issues that new lecturers often face, using personal experience to explore ways of dealing with these issues and directing you to support that is out there. So please do get in touch if you have any questions or would like to discuss your experience or ideas with us.
This article appears in the Feb/March issue of The Biologist (67.1)
Dr Beth Lawry MRSB, writing on behalf of ECLBio, is a lecturer in the School of Biomedical, Nutritional and Sport Sciences at Newcastle University. ECLBio is an advisory group to the Heads of University Biosciences (HUBS).
Follow the Early Career Lecturers in Biosciences on Twitter at @ECL_HUBS, tweet us your comments about this piece or any topic ideas you have. Also, connect with us on AdvanceHE Connect to find our discussion boards.