#BlackBirdersWeek: a movement for black naturalists and scientists in the outdoors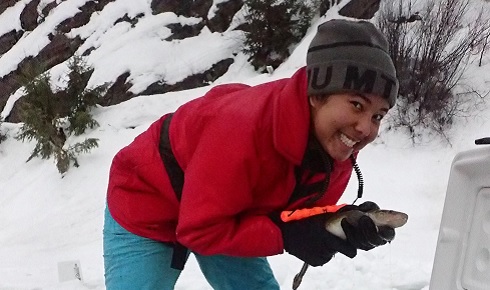 Rhiannon Kirton explains the isolating experience of being black and working in the natural sciences, and how she hopes momentum from a new online campaign can create positive change
Last month, after video emerged of a white woman in Central Park calling police and lying about how a black birdwatcher was threatening her, a group of young black people in STEM decided to make a change.
We had already been forming a community online, facilitated by US bird expert Jason Ward, to support each other and share our experience in STEM and the outdoors, but there had been no public organizing done by the group. Fast forward nine days from the conception of the idea at the end of May, originally by Anna Gifty O, and there has been an outpouring of support from the scientific community.
I am so greatful for #BlackBirdersWeek and to be part of a wonderful community. As a black woman, I feel now more than ever we need more diversity and representation in the environmental sector. Change will start with a support from EVERYONE. #BlackWomenWhoBird✊??? ? pic.twitter.com/pGhyUdLOAA

— Jamey Redway ? (@jredway95) June 5, 2020
The black community has long been underrepresented in STEM fields on both sides of the Atlantic. This is especially true of fields in the natural sciences and resource management professions. This lack of visibility for black professionals and recreationists in the outdoors perpetuates the idea that we do not belong in those spaces.
Can you imagine how isolating it must be to spend decades thinking you are the only person like you?
Representation truly matters, especially for young people entering STEM fields. The organizers of #BlackBirdersWeek and similar initiatives such as @BlackAFinSTEM still find we are the only black faces in the room both professionally and in our hobbies.
I'm excited to go to grad school but also nervous. The lack of diversity in STEM has led me to question my capabilities and my place in biology. #BlackBirdersWeek has truly reinvigorated and reassured me that I'm not alone. I can do this, & I BELONG HERE. #BlackWomenWhoBird pic.twitter.com/02h7CT3cm0

— Abbigail Turner (@_saveelephants) June 5, 2020
We created #BlackBirdersWeek to change that. The number one aim of this week is to uplift and recognize black naturalists and create a dialogue surrounding why there are so few of us in natural sciences and outdoor hobbies such as birding.
Outdoor sports and recreation are overwhelmingly white, and, in birding, the majority of participants are over 55. The aim of this week was to elevate the profile of black birders and encourage more people to join us in the great outdoors.
It is great to get outside & enjoy nature during #BlackBirdersWeek Whether I am hiking through islands in Sweden, chasing bellbirds in Costa Rica, or watching the birds at my feeders, I am always #BlackInNature Let's show the world that the natural world is a Black space too pic.twitter.com/LponGWxM33

— Milton Newberry, III (@MiltonicDynamo) May 31, 2020
When was the last time you saw an ad with a black person in it from Rab, Berghaus or Lowe Alpine? For children and young people raised in urban areas, this is especially pertinent. Their perception of what recreating in rural areas is like will be largely driven by what they see in media, and if they see no one like them, this makes the prospect of entering these areas confronting and isolating.
We no longer want to be the only ones in the room.
An overwhelming response
Although the energy surrounding #BlackBirdersWeek may not have peaked in the UK to the same extent as it has in North America, we have found enthusiasm and engagement from people all over the world. People from South Africa to New Zealand have reached out to us to support our mission for better visibility and representation for black folks in the outdoors.
Many in the scientific community have amplified our message and begun to engage with their own students and institutions surrounding matters of inclusivity. Professors have commented that they have never thought about how fieldwork might be unsafe for their students before and how they are working to change this.
Milton Newberry, director of the Sustainable Technology Program at Bucknell University.
Some of the responses from black naturalists speak for themselves:
"I feel fortunate to have had the chance to experience the ecology of places I saw on documentaries as a kid," wrote MIT biodesigner WS Kamau. "I shouldn't have to feel fortunate, and neither should others that look like me."
"I've been a hijabi birder for over 20 years and this is the first time I've met a Black hijabi birder," wrote STEM education consultant Jameela Jafri. "I am so grateful to #BlackBirdersWeek for elevating Black voices and profiles."
"In 40 years of birding I never thought I'd see the day when I wasn't the only black birder I knew," wrote conservationist and photographer Dudley Edmondson.
Diversity in people and perspectives is so important for the advancement of science. Having black scientists there so that the field is safer for future students is of the utmost importance. Part of this is challenging pervasive stereotypes that we do not belong in the outdoors or cannot afford to be there by showing that we are there. This is our space too.
Hopes for the future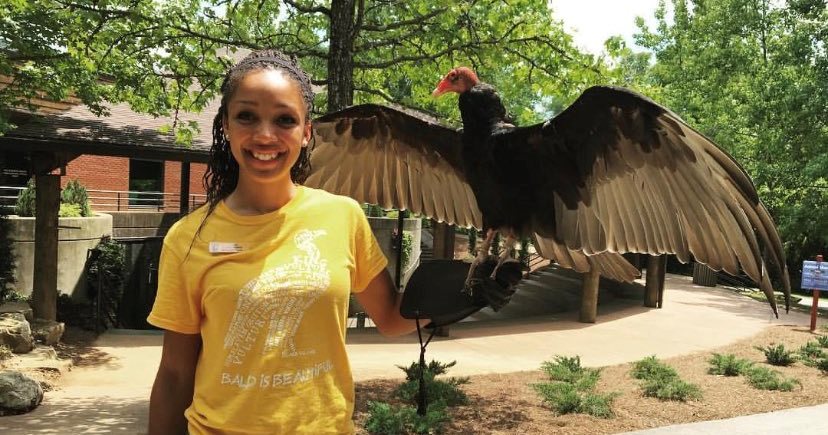 Avian conservationist Corina Newsome, one of the co-organisers of the #BlackBirdersWeek initiative.
It is our hope that the fire that has been ignited through the engagement with #BlackBirdersWeek continues to grow. That people continue to engage in these conversations with black birders and black scientists across the STEM spectrum to understand our experiences and to work to change them for the next generation.
We want the outdoors to be a safe place for all of us whether we work or play there. Any of us could have been Ahmaud Arbery or Christian Cooper. Being black outside is not a crime and through better representation we hope to change the narrative that we are rare or suspicious for being in these spaces. We no longer want to be the token black person on our field team, among a group of people who do not understand the extra safety concerns we have surrounding travel to remote areas.
This is not a uniquely North American problem – the lack of diversity in the British outdoors is equally pervasive and a British school curriculum which fails to teach about the history of the people we colonized, and how this history continues to disadvantage black, indigenous and non-white communities today is a disservice to us all.
Rhiannon Kirton has a BSc from The University of Manchester and is now a graduate student at The University of Western Ontario in Canada. She grew up between the UK and Australia in rural communities and is one of the co-organizers of @BlackAFinSTEM and the #BlackBirdersWeek initiative. She is of mixed race heritage and her grandparents are part of the Windrush generation from Jamaica. She has experienced being black outdoors on both sides of the Atlantic.
Further reading:
1)
https://blackoutdoors.wordpress.com/about/
2) Burns, R. C., Covelli, E., & Graefe, A. Outdoor recreation and nontraditional users: Results of focus group interviews with racial and ethnic minorities. In:
Studies of Diversity. Gen. Tech. Rep. PSW-GTR-210. Albany, CA: U.S. Department of Agriculture, Forest Service, Pacific Southwest Research Station.
Chapter 11,
210
, 123–137 (2008).
3) Gentin, S.
Outdoor recreation and ethnicity in Europe—A review
.
Urban Forestry & Urban Greening
,
10
(3), 153–161 (2011).
4) Kuhns, M. R. Involvement of women and minorities in the urban forestry profession.
Journal of Arboriculture
28
(1), 27-34 (2002).
5) Makopondo, R. O. B. (n.d.).
Creating Racially/Ethnically Inclusive Partnerships in Natural Resource Management and Outdoor Recreation: The Challenges, Issues, and Strategies. The Journal of Park and Recreation Administration
24
(1) (2006)