Into the Twitterspere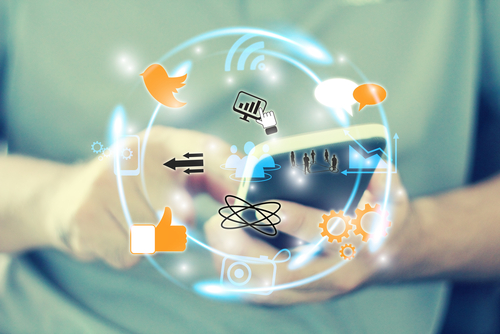 Not on Twitter? Social media and research go hand in hand, says Rebecca Nesbit
The Biologist 61(4) p8
Imagine this scenario: it's almost the end of your PhD and you're broke and jobless. Then, at a conference, you overhear a professor you'd like to work for discussing a talk. You have something to contribute, so do you a) introduce yourself and join the conversation, or b) loiter nearby drinking cups of tea and fail to summon up the courage to speak?
Until 2006, most students would be drinking the tea. However, since then, the scientific community has embraced Twitter and this form of social media has broken down barriers. Twitter can make scientific conversations more open, and it's a huge equaliser. On Twitter, you aren't a professor or a student, you're a name, a photo and a very brief profile.
There are two broad reasons why scientists use social media: to communicate with other scientists and to communicate with people outside the scientific community. The benefits of using social media for outreach are obvious, but the benefits to your scientific career are less clear.
First, Twitter provides good networking opportunities because it's set up to make it easy to find like-minded people. If your interests are science policy or science communication, for example, searching for a particular hashtag will let you know who is saying what. If you teach science, there are weekly 'chats' where teachers go online to share ideas.
Twitter is also a great way to hear scientific news and to comment on it, and writing a blog post can allow you to start your own discussions. It's easy to set up a free blog with WordPress or Blogger, but if that sounds like too much commitment, many blogs (such as the Society of Biology's one) take guest posts.
Blogs give you space to create an argument and provide some background. Compared to academic authors, bloggers are much freer to express opinions or share ideas. To make it work, however, you have to shed the academic style, and make your posts short and engaging.
I am a firm believer that tweeting and blogging can benefit people's academic writing style. I am by no means suggesting that papers should become blogs: there is a good reason why their style is different. What academic papers don't need is pompous language and superfluous words. Tweeting your message in 140 characters is a pretty good way of learning to scrap them both.
There are situations where social media can directly benefit research. The Society's flying ant survey was one of them. It enabled us to reach new people, increasing public engagement and data collection.
Others have been even more inventive at using Twitter to support their research. In 2011, two ecologists set up #SciFund Challenge, which helps researchers put together a crowdfunding proposal (financing a project with small contributions from a large number of people). Some projects have attracted more than US$20,000, and crowdfunding is often used to raise smaller amounts to fund a summer student or to buy some equipment, for example.
If you're unsure of where to start, I have blogged about using Twitter on the Society's blog Rest assured, in four years of following science folk on Twitter, I have never once learned what somebody had for breakfast.
Dr Rebecca Nesbit MSB is a blogger and scientific programme manager for Nobel Media.